DeLorenzo, Herron Named 2017 Pounder Cheer Captains After Tryouts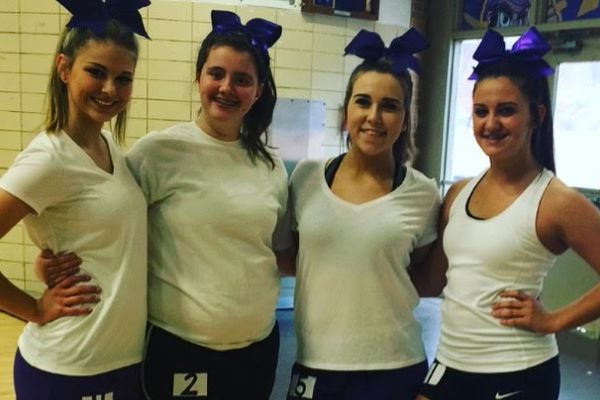 On April 18th, cheerleading coach Brielle Farrow kicked off the 2016 tryouts. This upcoming year will be Mrs. Farrow's third year as the head coach and she has made sure that each year, an excellent team is made. Farrow cheered all four years during her time at Central High School in the early 2000's and was also her team's captain her senior year.
Tryouts lasted a total of five days, starting on April 18th and ending on April 22nd. The host of this year's tryouts, graduating senior Skyler Dill, cheered all four years in high school and made sure those five days were nothing shy of difficult.
"I think all the girls did great. They all performed very well and I'm proud to be leaving my high school career behind into their hands," shared Skyler Dill.
Mrs. Farrow has big plans to get the team ready for the upcoming games and pep rallies. There are a total of 14 girls: two seniors, two juniors, six sophomores, and four freshman.
The girls are Katee Herron, Desiree DeLorenzo, Sam Reels, Miranda Lillard, Vanessa Smith, Anahi Colunga, Maggie Watts, Alandra CAmpbell, Emily Harrison, Skylar Murry, Cassidy Dummer, Meghan Duncan, Aly Brazier, and Meyah Walker.
"Over this summer we will be having our cheer camp at the University of Tennessee at Chattanooga, and I expect all girls to be attending," shared Farrow, "and I can't wait for a winning football team under the new head coach Cortney Braswell!"
There are really specific and detailed rules for being a cheerleader. It takes hard work, love, and dedication to the sport itself. All girls must maintain a 3.0 GPA, have good discipline, and show up to practice to maintain a spot on the squad. Under the leadership of the two junior team captains, Katie Herron and Desiree' DeLorenzo. This year is expected to have a great cheer team and keep the spirit running through Central's halls in the upcoming years.