Volleyball Senior Night: Central Takes Victory Against East Ridge, 3-0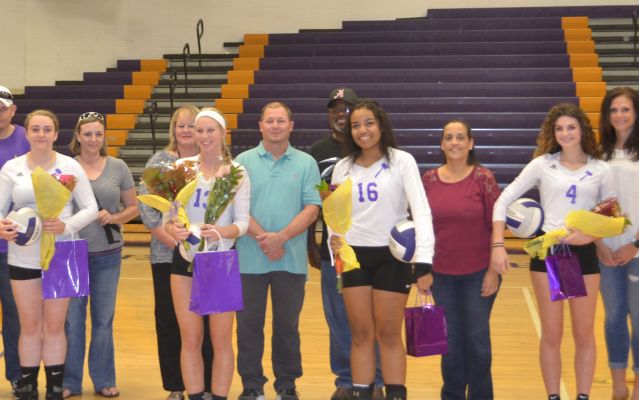 Jacob Johns, Business Manager
September 30, 2016|58 Views
Volleyball lovers and players' families gathered at Central for the Volleyball Senior Night and game against East Ridge.
The Lady Pounders took a glorious victory over East Ridge, 3-0, and the coach believes that is was the best game they had played all year.
"Brooke Parrot did a really good job hitting and on defense," commented Coach Jeremy Rogers. "Alyssa Barclay also had her best hitting game and didn't have any errors and is by far, the best game we have had all year."
Even though they took a great victory, there are still some things that need to be tweaked.
"We missed too many serves, and we need to adjust a few things on coverage for defense. We also need a little more communication throughout the team," stated Rogers,
Seniors Alyssa Barclay, Brooke Parrot, Gwendolyn Sofield, Lauren Rievley, and Makayla Smith were all honored and were very emotional that this will be their last season as part of the Lady Pounders.
"I'm going to miss all of the players," stated senior Alyssa Barclay. "We made a wonderful bond this season."
The volleyball team made many memorable moments while while the current seniors were a part of the team.
"My favorite memory with the seniors is honestly the fact that they accepted me right when I came in and started coaching with them. It was amazing," recalled Coach Rogers
"It has been a great season," commented senior Brooke Parrot. "I don't want to leave, and Coach Jeremy [Rogers] is the best coach that I have ever had."
With the volleyball team taking a fantastic win, Senior Night was a true success and was cherished throughout the whole team! If you see the volleyball players in the hallway, congratulate them on a fantastic win!