Buzzer Beater by Alivia Smith Clinches Lady Pounder Basketball against Tyner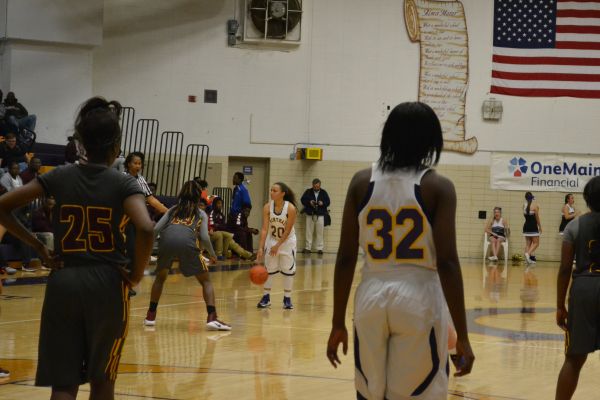 On Tuesday, November 22nd, the Lady Pounder basketball team tied up their shoelaces and pushed through with a one point lead against the Tyner Rams on the final buzzer.
Being the team's first home game of the season, students from Central High all came together to watch the Lady Purple Pounders slam dunk the Lady Tyner Rams with a score of 40 to 39.
"The game was absolutely perfect because we were the champions at the end of the day," stated girl's basketball coach, Rick May.
With a total of 16 turnovers in the game the team had a stunning lead throughout the game, but when they fell short of three points in the last minute of the game, the girls pushed forward and shot the winning victory while the buzzer was ringing.
"We all talked before the game and talked about what we needed to do in order for us to win like communication. We played our hearts out and the win was in our hands the whole game," said senior Miracle Miller.
Some upperclassmen, such as sophomore starter Alivia Smith, had some revenge to get towards Tyner that pushed them to play better during the game.
"I just remembered that I wanted to get them back from last season and I was so ready to play," commented Smith.
As the girls have already had three games this season, Coach May and the upperclassmen have high hopes for the season and look forward to the future of the Lady Pounder basketball team.
"We want to get better each game and we are still learning as the season starts. Our real goal though, is winning district and everything after that is icing on the cake," concluded May.
About the Contributor
Savannah Smith, Editor-in-Chief
Hi, my name is Savannah! I am a senior and this is my third year on the Central Digest Staff! I am the Editor-in-Chief for the Digest and I would...