Athlete Spotlight: Hard Work Continues to Pay Off for Senior Wrestler Isaac Coffman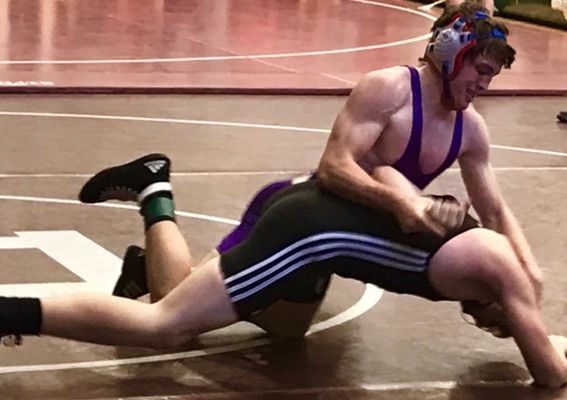 Isaac Coffman, a senior at Central, has been wrestling since his freshman year, and all that hard work is finally paying off.
"If you show that you have put in all your work, try hard, and focus on what you have to do, then you will get rewarded, and it is great getting the satisfaction of knowing that you put in your all," stated Coffman.
Coffman started wrestling with the encouragement of his brother.  Therefore, in eighth grade Isaac pursued his interest in wrestling.
"I did wrestling for five years, however I also am one of Central's football players, which is pleasing, and I have had my jersey since freshman year. The most memorable game was when we played East Hamilton and we were down a few points, but we came back and won the game. My most embarrassing moment, was when I was playing and another player stepped on my shoe and my shoe and sock fell off,  so I was tackling someone with just one shoe on," Coffman recalls.
Isaac also stated that even though some people might think he is a good teammate or player, there is always room for more improvement. He feels that he must focus on putting in his all and working hard towards doing his best.
"The coach is also helping me strive towards being my best by helping me improve my work ethic and by being there to support me," Coffman added.
Coffman plans to continue pursuing wrestling throughout college at the University Of Tennessee at Chattanooga this fall.
Alonzo Hayward, one of his teammates, believes that Isaac is a very talented athlete.
"He is a good wrestler and asset to the team, so it is good to have him. I have known him since sixth grade and we have been friends ever since. We share a lot of good memories but since he is now eighteen this [season] is very memorable because he is now an adult. Although this is his last year at Central, he is still a good teammate, and it was great being able to work with him," Alonzo Heyward concluded.
About the Contributors
Eleanor Simmons, Staff Writer
Hi, my name is Eleanor Simmons, and I am a Freshman here at Central. I play volleyball and I write stories for journalism. I love to read and to write...