Athlete Spotlight: Mcclendon Curtis Recieves Full Ride Football Scholarship to University of Tennessee Chattanooga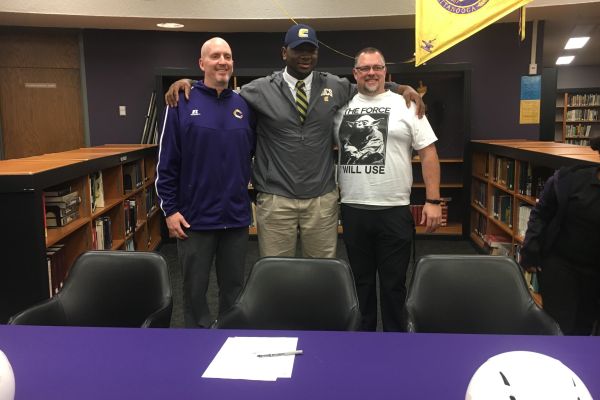 On Wednesday, February 1, 2017, senior and offensive lineman, Mcclendon Curtis, committed to playing football at the University of Tennessee at Chattanooga.
"It's honestly a blessing that I have made it this far and I am really excited about the next upcoming months at UTC," said Curtis.
Playing football since he was four, Curtis has always put his all into the sport and is looking forward to continuing his career in college.
"He is very grateful. Over the years, he has been very grateful for the staff here and the ability to do what he loves most. He is very driven young man and I can't wait to see what he can do," said Assistant Coach, Christopher Kribs.
"I like football because when I am angry I get all of my anger out, plus I really care about the results I get," commented Curtis.
Although Curtis selected The University of Tennessee at Chattanooga for football, it is not the only school that has given him offers. Other schools including Appalachian State, Georgia Southern, Middle Tennessee State, Ohio, Temple, Western Kentucky and the University of Tennessee at Martin also wanted Curtis to play, but decided to stay close to home.
"I think UTC is a good fit for him. I looked at the faculty and staff and I read that they are very good when it comes to putting players in the NFL and I think he would do some great things at UTC," said Kribs.
Curtis is not only a good football player, but is also known for being a good basketball player as well. Also playing since he was 4, Curtis has considered playing basketball for the University of Tennessee at Chattanooga as well.
"When they told me that I got a full ride for football, they told me that I can basketball at the University if I want to," said Curtis.
Although Curtis has not decided whether or not a basketball career at the University of Tennessee at Chattanooga is in his future, Curtis has decided to major in Science and Human Health to hopefully become an athletic trainer.
"Whatever I decide to do, I am just very thankful for all the opportunities I have gotten," concluded Curtis.
About the Contributor
Savannah Smith, Editor-in-Chief
Hi, my name is Savannah! I am a senior and this is my third year on the Central Digest Staff! I am the Editor-in-Chief for the Digest and I would...