Athlete Spotlight: Kolby Hinshaw Continues to be a Great Leader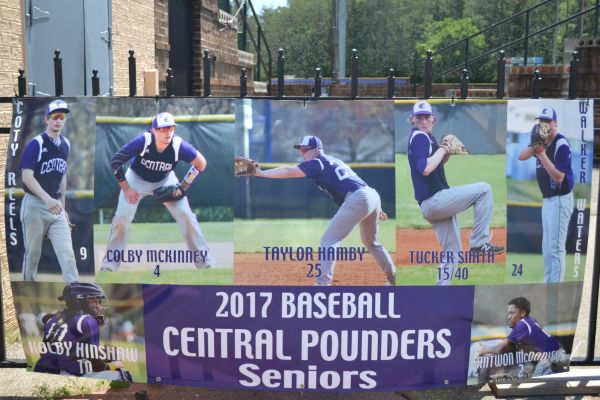 Kolby Hinshaw left Central ecstatic on April 12. On that day, there was a baseball game occurring at Hixson. There were four district games being played at the time. Central having been defeated by Hixson in an earlier game by a score of 9-4, kicked it into high gear.
Hinshaw was a key player during the game. It was evident that the overall improvement of the team during the season led to a win against Hixson. Hinshaw struck the crowd with awe with his home runs and good hit.
Now a graduating senior,  Hinshaw exceeded the expectations of the players and the coach.
"Baseball has just been in genes since I was little, I started playing when I was six and have been playing for 12 years. I honestly just like the competition it makes me feel good because I know what I am doing. Being on a team made helped me strengthen my sportsmanship skills, and it is fun to play with other good players. These four years were really great, and I have had a chance to play with some really nice people," commented Hinshaw.
Baseball coach Glen Carter, was happy to be able to work with Hinshaw this year.
"Kolby actually came from Hunter but his parents decided to make him go to Ooltewah, however he did not like it so he switched to Central. Kolby just does his job, not really a vocal person but he can get the job done. A magnificent leader at that, specifically by he leads by example not by shouting and trying to raise his voice. He is also a wonderful asset to the defense, and is also a really good catcher. Kolby throws 80% of the people who try to steal second base off and when batting, [Hinshaw] is very efficient with a hard swing and strong impact," elucidated Carter.
Coach Carter stated that [Hinshaw] helped win the game and that he makes for a good team player.
Although Hinshaw was only on the team for one year, [Carter] is grateful to have had him and wishes Hinshaw well.
About the Contributor
Eleanor Simmons, Staff Writer
Hi, my name is Eleanor Simmons, and I am a Freshman here at Central. I play volleyball and I write stories for journalism. I love to read and to write...