Lady Pounders Softball Team Bring Season to State Championship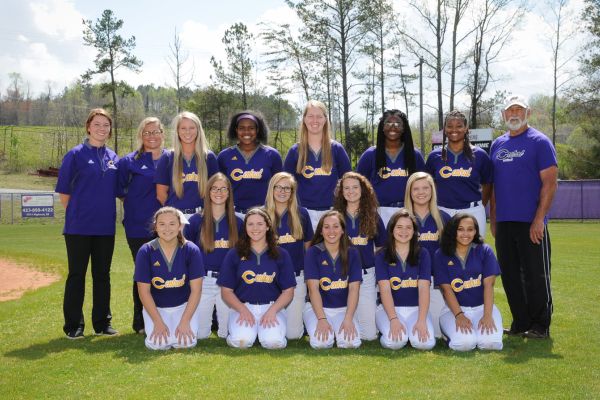 Hang on for a minute...we're trying to find some more stories you might like.
Just like the 2016-17 school year, the softball season at Central High School is winding down to a close as the fight for the State Championship is underway. Central's girls have been practicing until their bodies ached and their energy ran dry, but hope was never lost. The climb to the top is rough and unforgiving, but hard work always has a way of coming around full circle.
On May 15, 2017, the softball team endured the Region-3AA semifinal, facing off against the opposing team, McMinn Central. Brooke Parrott, a graduating senior and Central's pitcher, began the game with an eight streak strike out. Amanda Roy, a rising senior, and Ina Henderson, an upcoming sophomore, led Central with singles in the fifth. The game scored Central an epic win with an ending score of 2-0.
The girls are good, but how have they come so far? Softball is not a one-woman's show and having the ability to be in-sync with all of the other players is a crucial part of being a team. Central's softball girls are reliant on each other, making the Lady Pounders a strong, dynamic machine.
A tough team is a team that has gone through its struggles. The Lady Pounders have spent the season working on "being in the zone" for which pitches they should drive and which ones they should not. At the beginning of the season, the players were somewhat "pounding" the ball, resulting in minor errors and missed opportunities. Starting out with only a few players in the beginning, finding key hits were not always easy. The goal coaches LeeAnne Shurette, Jerry Mongar and Britney Sylvester have drilled into the girl's heads, however, is that practice makes perfect.
"We have overcome a lot of obstacles," Cassidy Simms, a current junior, pitcher and catcher in center field, acknowledged. "They have taken us by surprise and set us back mentally, but [the team and I] have been able to set our eyes on the goal and work towards it no matter what happens."
Whether the softball team pushes sleds at workouts, exhausts themselves at conditionings, or sweat at the building, the girls put every single fiber of their beings into working hard. Since the beginning of pre-season in August, they have yet to back down from a challenge, and rather face it like the real champions the rest of Central knows them to be.
"We do not get down on ourselves and we pull each other up when we struggle," expressed Janara Smith, a shortstop and soon-to-be senior. "We just really bond together as a team and enjoy the feeling when we win. That is always the goal."
It is clear as crystal that the Lady Pounders never stop fighting for what they want, and they have no problem expressing a lot of heart on and off the field. That is one quality not a lot of other teams have; one quality that makes the Central High softball team champions all on their own.
Fresh off a 3-0 regional final win against Sweetwater and a 1-0 sectional win against Macon County on May 18, the Central Pounders softball team is heading to Murfreesboro for the State Championship on Wednesday, May 24, 2017.