Central Pounders Baseball Finishes Off Strong At Regional Championships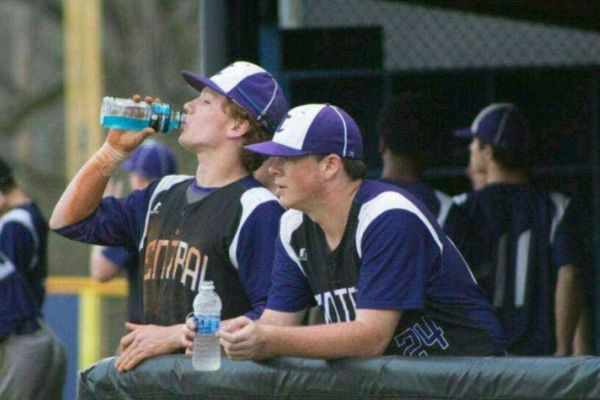 The 2017 Baseball season started off at full speed after winning the first game against Howard, 21-1. Head Baseball Coach, Glen Carter has prepared his team for the best as well as the worst of times, and since last year, the team has made a big improvement.
"Last season, we lost a game 14-18 an didn't get to advance to playoffs but this year we tied up 18-18 and we are currently in round 3 of this seasons playoffs," explained Carter.
Senior, Walker Waters and junior, Andrew Bingham, have been brought up for bringing great success to this year's team by being described as the star players this season, also getting the most hits in.
"It's a pretty good feeling being described as a star player but it's also a lot of pressure because the younger guys look up to me," stated Waters.
"I feel responsible and entitled to lead the team, as well as being a leader," admitted Bingham.
The coaches and team share one thing in common: their favorite memory. On May 15, Central played against Sequoyah, after accomplishing an outstanding victory the team will get to move on to Regional Championships. The game is to be held on Friday, May 19th. It will be the first time in 19 years that Central has gotten to proceed to the championships.
The team is continuously strong, but there are still certain things that the players need to improve on, not only as a team, but individually as well.
"I think the team really needs to work on fielding, its definitely one of our weaker points," mentioned Carter.
"I feel like the one thing that makes me better is the work you have to put in outside of practice, it helps me become better at the sport," shared Bingham.
As the season comes to an end, the players are still working around the clock to become better and be ready for what next season has to bring.
"I expect the team to have some growing pains; we will be young and inexperienced," Carter jokingly concluded.
About the Contributors
Meghan Duncan, Sports Editor
Hi, my name is Meghan Duncan. This is my third year on the staff and my second year being the sports editor. I have been cheering for 3 years at Central,...