Pounders Defend the Hill With Tremendous Win Over East Hamilton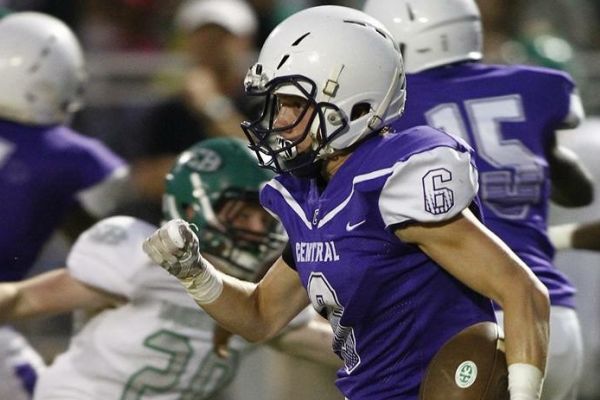 The Central Pounders are more pumped than ever after taking a huge win over East Hamilton. The team withheld a strong lead throughout the game. With an ending score of 53-14, the Pounders dominated the Hurricanes.
Head Coach Courtney Braswell states that the team has improved dramatically since last season, and that the team is starting to focus on the little things a lot more.
"The way our guys fight and compete has really impressed me this season, they have improved so much since the beginning and it shows how hard the play," shared Braswell.
The team practices non-stop to increase their chances of more victories. Practices are held Monday through Thursday and are set for an hour and a half.
Senior wide receiver Andrew Bingham, scored three touchdowns against East Hamilton moving the Pounders further ahead.
"I felt appreciative towards my coaches and team for helping me get in the end zone because the first touchdown wouldn't be possible without a block, the second touchdown wouldn't be possible without our coaches. The third touchdown was the team just being in the right position, I felt that I wasn't just scoring for Central, but the community as well," explained Bingham.
The community expressed endless love with the team after the tremendous win by running out on the field when the time was up.
Junior Cammie Seaborn, a student involved in the uplifting student section on Friday night, couldn't be more proud of all the players and coaches.
"All of the people in the student section were overjoyed every time the boys scored, but to see them win and take the victory the way they did was a whole different experience," stated Seaborn.
Braswell was definitely uplifted every time the team scored. He recalled that all you could hear was the sound of cheering people in the stands.
"My favorite part of the game was of course when we won but the love and support from the community and our school was awesome!" exclaimed Braswell.
Central students hope for more victories in future games and that we will soon rise to the top.
About the Contributor
Meghan Duncan, Sports Editor
Hi, my name is Meghan Duncan. This is my third year on the staff and my second year being the sports editor. I have been cheering for 3 years at Central,...