Pounders Win in Heart Wrenching Final Second Win Over Sullivan South; 45-42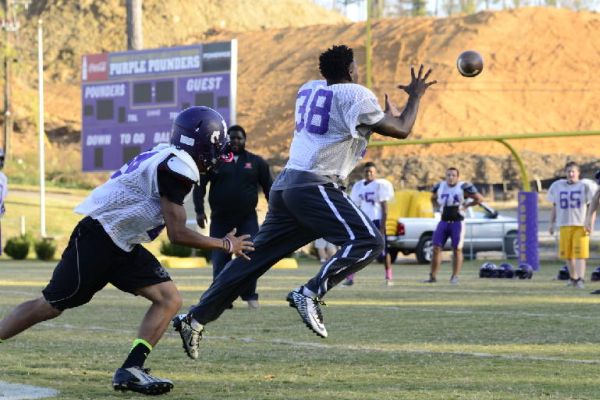 As the first round of the TSSAA playoffs in are in full swing, the Pounders are ready to put in maximum effort and are ready to "Secure the Bag".
For the first round of the playoffs, the Pounders faced the Sullivan South Rebels in a home game that was sure to be one to remember. In the final five seconds of the game the Rebels were up 32-49 and the Pounders placed on the 5 yard. In the final play of the game, the Pounders made a pass and stunning touchdown to win the game 45-42.
Due to their win against Sullivan South, the Pounders will travel away to Greeneville to face the Devils, a relatively elite team with a record of 11-0 for the season. The Pounders, however, do believe that they have a fighting chance in winning the game.
"In order to beat Greeneville, we need to come into the game focused on the main task to have fun and whatever happens on the field happens for a reason," commented Runningback Hunter Jones, "We've been practicing super hard lately on not to beat each other up, but to get the fundamentals down and fix our mistakes from last week. As long as we play and do what we have practiced since week one, we will succeed."
Coach Braswell believes that team played well for the first round, but needs to improve even more in order to secure the second round win.
"They played really well," recalled Braswell, "They need to improve their mistakes and need to work on not turning the ball over. Obviously our offense did a really good job at keeping us in the game."
The Pounders take on the Devils at Greeneville on November 10! If you can make it, be sure to go out and support the Pounders.
About the Contributor
Jake Johns, Copy Editor
Hey! My name is Jake and I am a senior! This is my fourth year on the Digest staff and second as Copy Editor. I am a member of the City of Chattanooga...