Brainerd Brawl Leads to Season Suspension and Concerns For Student Safety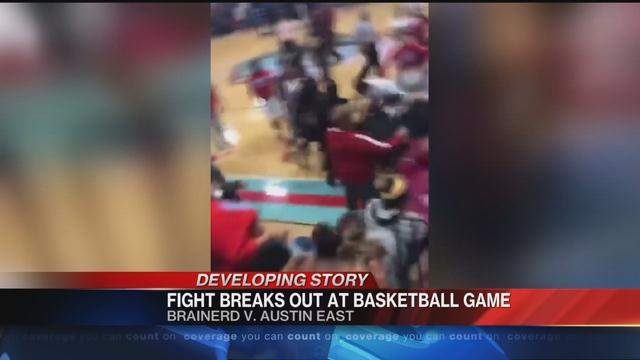 Students are riled up after a violent fight occurred at a Brainerd High School basketball game against the Austin-East Road Runners. The Panthers were in the lead just before half time when the fight broke out.
TSSAA officials state that the two players from each team chased after a loose ball. Shortly after, it was called to be an out-of-bounds ball. Austin East's Darion Battle made a quick move and hit Brainerd's team player, Jalen Wofford with the ball. Students, parents, and players quickly eroded from the stands to the basketball court with full on violence, resulting in one student being hospitalized.
Brainerd's players and several members of Austin-East have been suspended. Not only were players suspended, but the remainder of both teams' seasons were suspended as well.
The level of chaos that has occurred has teachers and parents questioning the safety of our students and players.
Cheerleading parent Becky Murray expressed her concerns about the safety of attending anymore basketball games played against Brainerd High School.
"I personally don't feel safe attending the games at Brained this year because it has gotten ridiculous and out of control. I don't want my daughter getting in the middle of that chaos, we have had problem with this certain school before during our football season and this year it seems to be a very hostile environment," explained Murray.
Although many complaints have been made, several people feel like the hostile event was something that can be dealt with.
Chemistry teacher and cheerleading coach Brielle Farrow stated that even know something chaotic occurred. Farrow felt it could still be a safe environment for students and players from Central to attend.
"I would let my cheerleaders cheer at a game taken place at Brainerd, if there is enough administration present as well as officers then it should be safe enough to go support our team," explained Farrow.
Considering TSSAA officials suspended the seasons for Brainerd and Austin-East, the boys basketball team for Central will move up to number three in the rankings for our division. Head Coach Rick Rogers continues to lead the team in full speed up to the top.
Let this be a lesson to our students, players, as well as the parents. Central looks forward to continue on with the rest of our 2017-2018 basketball season.
About the Writer
Meghan Duncan, Sports Editor
Hi, my name is Meghan Duncan. This is my third year on the staff and my second year being the sports editor. I have been cheering for 3 years at Central,...