Rick May Celebrates His 400th Win and Assesses His Successful Coaching Career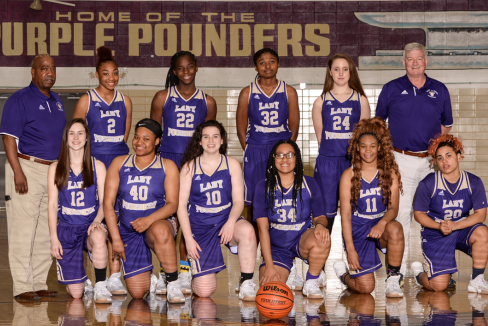 On February 16, Central's girls basketball team achieved a new milestone for their coach. The Lady Pounders beat the Howard Hustlin' Tigers 44-8 during the District 5-AA tournament to give coach Rick May his 400th career victory.
"The fact that it was my 400th win reminded me that I've been coaching a long time. It took many years of hard work and dedication to get to this point, and is a great milestone in my career," May revealed.
May has attained both a bachelor's of education and master's degree in curriculum and instruction while also being a part of the college basketball team at Freed-Hardeman University in Henderson, Tennessee. He credits his high school coach in Virginia, Roscoe Dean, for inspiring him to become a coach one day.
"As a player myself I thought, 'Wow, I'd might like to do something like that in the future.' That was back in the 1970s, but my coach was very influential," May imparted. "He talked about being able to have relationships beyond the classroom, and said that the basketball court is just another form of the classroom. Those statements really resonated with me and helped shape me into who I am now."

May got his coaching start in Bowling Green, Kentucky in 1981. He first began coaching for Bowling Green, but later moved to Chattanooga in 1984 in search of a job closer to his family. His coaching transformed Boyd-Buchanan from 1984 through 2006, leading them to some of the highest ranks, before he started coaching for Central in 2006. Alongside coaching, he teaches US History, as well, but has also taught several other courses in the past including earth science and government.
This will mark his 36th year of coaching girls basketball, although he has also coached boys basketball in the past. May noted that he has to constantly teach girls every position, unlike the boys, however, he prefers to coach girls because he has raised two daughters of his own.
"My favorite aspect about coaching is the relationships that I get to form with my players. I can help my students relate basketball to life through my coaching," explained May, "What I want my students to take away from the sport is that there are some things you want really badly, but they don't always work out. Despite that, you should never give up on your dreams."
Some of May's favorite seasons at Central were the 2014 and 2015 teams. During this time, the Lady Pounders placed runner-up in District 5-AA, going to the full extent of their playing abilities.
"We came up short winning, but that was not the most important thing; the journey getting there was," May elaborated.
From the positive atmosphere that was created by the players to their perseverance in pursuing recognition for their hard work, there were a lot of qualities that made those years so memorable.
"The players were highly dedicated to the sport and had a high basketball IQ," May alluded, "They knew what they were doing, and you could tell them what they needed to do, and they'd do it."

This year's line up is no different. With the opening district tournament game having been completed, the Lady Pounders are hoping to advance further.
"Each year the team is different, much like my classroom is," May divulged, "You get to meet different people with different attitudes, and that makes no two years of coaching the same."
One of May's principle objectives as a coach is to enrich his players with lasting life lessons that can take them a long way in the future.
"I want to make sure that they know how to work well with others. If someone has difficulty following directions that are given to them, then it will only lead to more problems down the road," explained May, "An uncoachable kid becomes an unemployable adult."

In addition to that, May still stays in contact with his former players, such as Sandrea Sylman, who graduated in 2015. Sylman has continued her basketball career by playing for Freed-Hardeman University, the same college that May attended, with a major in education. He's had several other players go on to play basketball in college or even become a coach like himself.
"Coach May's instruction impacted me as a player because he reached out to my current coach and helped me receive a scholarship to attend Freed-Hardeman University," stated Sylman. "His coaching has made me also become a better player."
"You may not reach your desired goal, but you have to keep on keeping on," May concluded.
About the Contributor
DayOnna Carson, Editor-in-Chief
My name is DayOnna Carson, and this is my fourth year being on the Central Digest! I love reading and making stories of my own, so I am glad I got the...