The Girls' Basketball Team Aims to Score Big During the 2018-2019 Season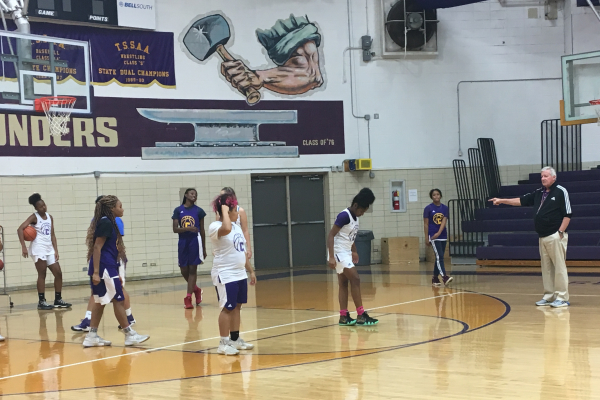 Basketball season for Central High School's Lady Pounders has once again commenced, and the team is ready and raring to compete. This season, the team is focusing on improving from last year.
Coach Rick May is instructing the 11 players with his abundant knowledge and experience from 37 years of coaching basketball. The team consists of three freshmen (Frances Wright, Alexis Kennedy, and Alona Allen), one sophomore (Kassy Griffith), three juniors (Ja'nya West, London Vaulx, and Bri Ladd), and four seniors (Amari Harrington, Destiny Whaley, Alyssa Coffman, and DiAndrea Glenn). Practices began the first week in November, and lead up to the first game on Monday, November 19th.
Coach May believes this season has a lot in store for the girls. However, he is well aware of the weaknesses he is required to address.
"For this season, we have to be consistent in what we do. We have a lot of really good guards and a couple good posts. We also have one of the city's best shot blockers, London Vaulx. A strength we possess is being able to handle any kind of pressure anyone puts on us, but we need to work on our defense," May critiqued.
Along with May's critiques of the team, Junior Ja'nya West stated that one of the team's weaknesses was lack of communication. West announced that the team's only specific need is to focus on conversing with one another. She believes that exchanging thoughts and feelings benefits the team tremendously.
Senior Alyssa Coffman, who has played all four years at Central, possesses an overall positive outlook on this year's team. She desires to encourage her fellow team members, but frequently lets her own self down.
"I am good at lifting others on the team up. I think the team will do good and we will go far; we have a lot of potential. However, when I do not use my own full potential in a game, I get down on myself and get mad," Coffman confessed.
Senior Amari Harrington is also keen to providing tips to her teammates. Since she is a senior, she acts as a leader to the younger students on the team; she wishes to serve as a role model to them.
"We have a lot of underclassmen, which is good, so I can help them become a leader," Harrington expressed.
One aspect that May believes does not need to be improved further is the girls' competitive spirit. The Lady Pounders are looking forward to playing every game, no matter how talented the team is.
"Signal Mountain and Red Bank are two schools that will probably be our toughest games. I am looking forward to playing all teams, really. Every game is important," May exclaimed.
Because of the girls' willingness to compete, some look forward to the aspect of winning the most.
"I am looking forward to winning state championship," Senior Harrington boasted.
"I am just trying to win," Junior West admitted.
However, Senior Coffman has her eyes fixed on a different prize.
"I am not exactly looking forward to winning, but I am looking forward to furthering my relationships with my teammates," Coffman informed.
There are numerous ways the members of the girls' basketball team prepares for upcoming games. For example, Ja'nya West sleeps, eats a meal, and practices what she will do in the game. Amari Harrington stretches, goes over plays, asks Coach May questions, and socializes with her team members. Alyssa Coffman listens to classical music to remain focused and calm.
Overall, the team has been preparing in many ways to improve their performance from last year. With high spirits from Coach May and the Lady Pounders, confidence remains the key factor for the upcoming season's success.
"We have a lot of experienced and talented players. We are looking forward to competing!" May emphasized.
About the Contributor
Abby Young, Staff Writer
Hello! My name is Abby Young. I am a senior here at Central and this is my second year on the Digest. I am unsure what I want to pursue after I complete...