Central High School Athletic Trainer, Sammie Jones, Makes an Effort to Keep Student Athletes Safe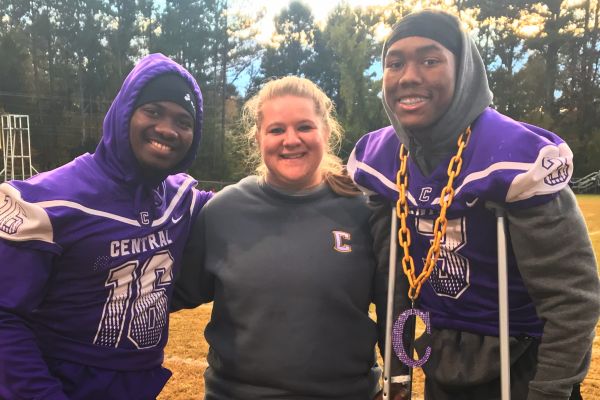 Central High School's athletic trainer, Sammie Jones, is known and loved by all the student athletes across the school. She assists with injury prevention, emergency care, injury evaluations– along with diagnosis– and helps with the players' rehabilitation of energy.
Jones moved to Chattanooga, Tennessee from Littleton, Colorado in June of 2017.  Coming from Colorado, she moved to Kentucky where she received her athletic training degree, and went on to Georgia where she obtained her masters degree. After that, she finally settled here in Chattanooga and committed to her job as a trainer.
Most days, Jones arrives to school at one and fills out paper work until dismissal at two twenty. After school, she helps student athletes with rehabilitation and tapes their injuries to alleviate the pain. She stays until all practices and games are over.
"She gives me educated advice to help get through an injury, but she is also a good friend when I need her," Senior Nathen VanderWilt alluded.
During her time Central High, she has helped many students. Jones has been there throughout each sport season in order to assist any athlete in need of care.
"My favorite thing about my job is the relationships that I am able to build with these athletes," Jones revealed.
Her job makes it easier for students to keep doing what they love, having peace of mind knowing that there is someone there to support them in the case of an emergency on or off of the field. However, it makes her job challenging knowing that some injuries require medical attention that goes beyond her training.
"The hardest thing about my job has to be telling athletes that their seasons are over," admitted Jones.
She tries to find the most effective ways to help with athlete's injuries and strives to improve every dilemma that she encounters. Jones resents athletes missing practices or games, but she always wants health to be their first priority.
"The best way to describe Sammie is that she is all you could ask for and more. She always goes out of her way for you, and you can really tell she cares and loves what she does. She is hilarious and just a person you want to know and want be around," Senior Michael McGhee voiced.
In the next five years, Jones continues to see herself working in high school athletics. She wants to help make the sports medicine program at Central continue to grow, and urges people to understand how important having an athletic trainer really is. The school heavily relies on an athletic trainer, and Jones is making a great effort to help our athletes progress through their season with as little injuries as possible.
About the Contributor
Karleigh Schwarzl, Staff Writer
Hi, my name is Karleigh Schwarzl. This year I am your Sports Editor! I am so excited to have this role going forward! I play both soccer and softball....