Junior Varsity Cheerleading to be Available at Central Next School Year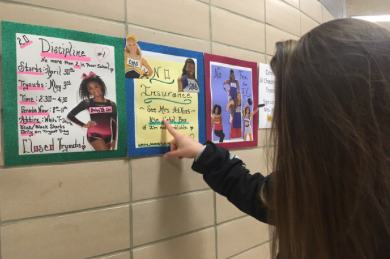 Cheerleading is more involved than most people may believe. Before Central students can become athletes, they must excel as students first. They have to perform well in the classroom before they can even be considered for the cheer squad. Mrs. Karen Atkins, the Central High ninth grade counselor, has decided to start a junior varsity cheerleading team for the upcoming school year.
"As a school counselor. I realized some of the students were interested in becoming a cheerleader, but were not eligible to tryout for varsity due to the GPA requirements. By having a junior varsity squad, the requirements are not as high. Therefore, even special needs students are able to try out," revealed Mrs. Atkins.
Students interested in the cheerleading subgroup are required to have above a 2.0 GPA and also attend tutoring on certain days. This will help prepare these cheerleaders to one day represent the school's varsity squad.
"[The junior varsity program] gives these students an opportunity to be on a cheerleading squad, which gives them a positive environment to be around," stated Freshman Calli Morgan.
The junior varsity cheer squad will be completely different from the regular varsity team, with its own schedule and requirements. Junior varsity cheerleaders will attend home games with a main focus on home basketball games. Additionally, the junior varsity cheer squad will not be participating in cheer competitions.
Both male and female students from all grade levels are encouraged to try out. If one has the skills to cheer and the motivation to learn along the way, then they should consider signing up for the team. Currently, there are over 30 students who have shown interest in the new squad.
There will be a closed tryout for these students with judges present. Students are able to sign up on the sheet located on Mrs. Atkins' office door.
About the Photographer
Karleigh Schwarzl, Staff Writer
Hi, my name is Karleigh Schwarzl. This year I am your Sports Editor! I am so excited to have this role going forward! I play both soccer and softball....