Central's Baseball Team Receives Stadium Seats to Improve Stands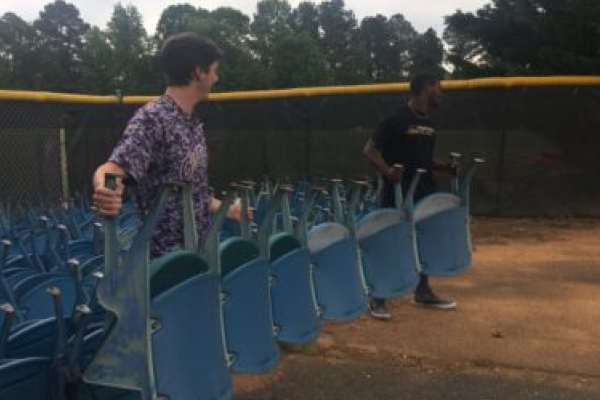 Gene Lively, Central's baseball coach from 1984 to 2002, installed the school's current seats in the Gene Lively Stadium during the early 90's. They were formerly used in the Engle Stadium, the old Chattanooga Lookouts Stadium, back then. This year, however, baseball head coach, Franklin Carter, received new seats which were recently delivered to the school.
"When I played at Central High School back in 1992 these [current] seats were here, so when I became the head coach I wanted to fill both the first and third base side," stated Coach Carter.
According to Carter, there was never a good time to buy stadium seats because they were always so expensive. His youngest brother who currently resides in Nashville told him that the city's minor league team was going to build a new stadium, therefore, the old stadium would be teared down. It was originally built in 1974 which means that these seats were made in the 1940's; they were previously in the old Atlanta Braves stadium in Fulton County. They were still in good condition, so Carter decided to buy them. The seats will be installed where the current stadium seats are; he will also be filling both the first and third base sides of the stadium.
Winston Reels, who has a trucking company, helped transport 238 seats from Nashville to Chattanooga. He played baseball in the mid 80's and won two state championships, so he really cares about the school's baseball program.
The current baseball players are ecstatic about the new baseball seats coming in. They are thrilled to see that their field is looking better each year.
"I'm happy that we're getting new seats. We have definitely worked hard for what we have, like the locker room and batting cages. It is only right for the people that support us to have a nice and comfortable place to come and watch," commented Senior Austin Ford.
As of now, Carter plans to pressure wash and paint these seats before they are ready to be installed. He hopes to work on these seats right after this baseball season is over and hopes to get them up before the following season. Carter plans to get these installed with the help of Hamilton County or baseball supporters and parents.
The baseball team would also like to thank Former Principal Finley King and the Alumni Association who helped the baseball team get these seats.
About the Contributor
Karleigh Schwarzl, Staff Writer
Hi, my name is Karleigh Schwarzl. This year I am your Sports Editor! I am so excited to have this role going forward! I play both soccer and softball....