Central Football is Working Towards Gaining Confidence After Baylor Loss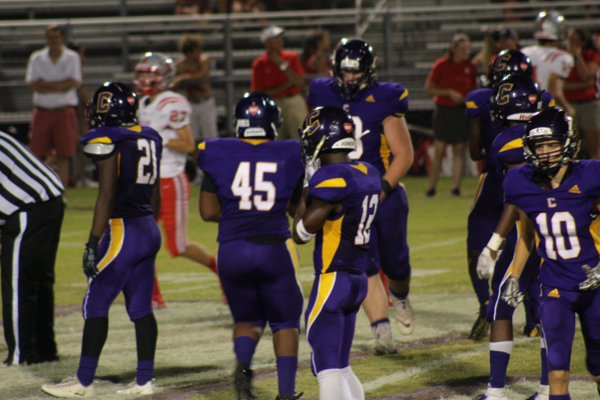 So far in the season, the Central football team has played and lost to Notre Dame and Tyner. Despite that, the boys had came out on top in the game against Sequoyah, beating them 47 to 34. The team's next game was against Baylor on Friday, September 13. This game was the first home game of the 2019-2020 season.
"Going into the game, the boys' energy was nonexistent," stated Coach Curt Jones. "They had no confidence, they were flat footed, and mentally didn't believe that they could compete with Baylor."
Baylor started out with possession scoring in the opening play of the game. Immediately, the Pounders started losing more and more confidence. In the first quarter alone, Baylor scored 42 points.
As the game progressed, the boys slowly, but surely, began to gain their confidence back. The boys scored a touchdown and also made the extra point attempt. Baylor scored a field goal, making the score 45 to 7. The team continued to fight through the game.
"Midway through is when we realized we could stand toe to toe with them that's when the team began to gain confidence," shared Coach Jones.
After the first quarter, Baylor only scored ten more points. Sophomore and defensive end Michael Watson was a key player in the Pounders' defense throughout the game.
"We played too timid, as if there wasn't a plan we had going on. Some keys were off and that's why they ended up scoring 52 on us," stated Watson.
Some key players that stood out on offense were offensive lineman and Junior Kenny Shadden, quarterback and Senior Kelvin McGhee, running back and Senior Bailey Sublett, and running back and Senior Marquis Ray.
For week five of Friday night lights, the Central Pounders will take on East Hamilton at home. This is a huge game for the Pounders, putting a huge wright on playoff contention, and it can even determine home or away status in playoff games. The team has consistently practiced with high energy levels going into this week of gameplay to prepare to win.
"Making sure the kids have confidence is key. Any time you have a young team you have to be able to play with confidence to be successful," stated Jones.
The season is only halfway through, so come out and support the Central Pounders. The Pounders play against East Hamilton at home on Friday, September 20 at 7:30 pm.
Readers can view the latest sports updates on the sports center page. This is where schedules, scores, and rosters will be posted.
About the Contributors
Karleigh Schwarzl, Sports Editor
Hi, my name is Karleigh Schwarzl. This year I am your Sports Editor! I am so excited to have this role going forward! I play both soccer and softball....
Danae Wnuk, Staff Writer
My name is Danae Wnuk and I am a senior at Central High School. This is my first year as a staff writer for the Central Digest. I enjoy researching new...