Central's Girls Volleyball Team Prevails Against East Ridge and Tyner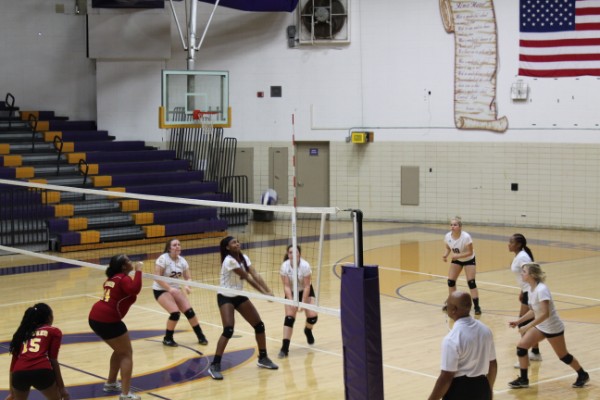 Hang on for a minute...we're trying to find some more stories you might like.
Central's volleyball team has been diligently practicing their technique in preparation for a successful season. Now that the team has played a few matches, they have gotten back into their routine and know what to expect for the rest of the season.
Just last week, the girls went against Tyner and East Ridge. At the Tyner match, Central remained in the lead throughout the entirety of the game. During the first set, Central prevailed with a tally of 25-8, and continued this winning streak into the second set, scoring 25-10. They won the the match in the end with a final score of 2-0.
"[During the Tyner match,] Olivia Rawl and Carmen Crabtree definitely played well because of their serving abilities," said Coach Holly Ware
The girls volleyball team also came out victorious in their East Ridge match. After the first set, the Lady Pounders scored 25 points against their opponents' score of 14. The second set was a close call with the Pounders still taking the lead 26-24. They earned yet another victory after yielding 25 points to their opponents' 12 in the third set, receiving a score of 3-0 overall.
"Again it was Olivia and Carmen who served very well this game to help led us to the victories," stated Coach Ware.
One key factor to their success has to do with the team's improved communication. The team has been working hard to coordinate plays more efficiently throughout their matches.
"I think we played well as a team in general. We communicated very well together and we had some very good plays," revealed Junior Carmen Crabtree.
"No balls hit the floor," said Coach Holly Ware. "This is huge for us. We tend to lack communication and, when that happens, balls drop between two players. There wasn't one [ball dropped] in either match."
The girls lost their earlier matches of the season against the Patriots and East Hamilton, earning a score of 0-3 at both. Despite that, they successfully beat Howard 3-0.
Other things that the team is always looking to improve are communicating, moving their feet to the ball, anticipating their opponents' next move, and self-confidence according to Coach Ware.
"I myself have set goals to try to always have a positive attitude and try my best. Also, we, as a team, have set that goal," stated Crabtree.
In comparison the rest of the season, the Tyner and East Ridge matches really helped the volleyball team put their practice into play, and strategize to improve their overall performance.
"Tyner isn't overall a great team so this helps us to always play at our high standard and not to overlook any team," revealed Coach Ware. "[The] East Ridge game was fun; the team played hard, played together, [and] hustled the entire time. The team played hard and started doing the small things and making hustle plays to get us the win."
As the season progresses, the girls volleyball team will continue to put forth their best effort to ensure that they maintain their goals and successes.
About the Contributors
DayOnna Carson, Editor-in-Chief
My name is DayOnna Carson, and this is my fourth year being on the Central Digest! I love reading and making stories of my own, so I am glad I got the...
Jack Graham, Staff Writer
Hello, my name is Jack Graham. I am a sophomore, and this is my second year on the Digest. I like to hang out with my friends outside of school, but I...