Mallory's Seventh Year of Coaching Wrestling Brings His First Four Year Wrestlers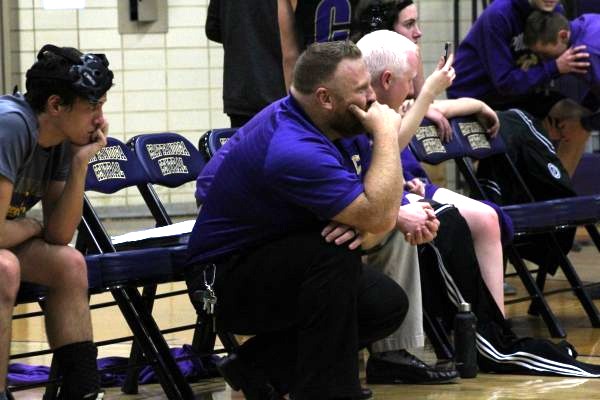 Seven years ago, Ryan Mallory, Central's English 11 and English 10 support teacher, started coaching Central's wrestling team. This year, Mallory is leading his first students to be coached by him all four years of high school. The seniors are Jack Neely, Donavyn Walker, and Jacob Wright.
Four years ago, Neely, Walker, and Wright stepped onto the mat for the first time as a Central Pounder. They were timid and nervous of what was to come. Mallory explained that, during their respective freshman seasons, Neely was somewhat clumsy, Walker lacked in confidence, and Wright acted similar to that of a robot. However, as they have gained experience and skill throughout their four years, growing out of their bad habits and becoming the best wrestlers they can be.
"It has been fun watching them grow as wrestlers and as people. Their trajectories have all been similar in that they all started as freshmen, they all qualified for the state tournament in the same year, and now, hopefully, they'll be in a position to all win medals at the state tournament. I think we are seeing proof of concept in our program; what we do works," noted Mallory.
The three seniors have been an impactful part of the wrestling team for the last four years. According to Mallory, they have brought culture into the team. They always do the right thing, on and off the mat, and they could not be better inspirations and leaders for the wrestling underclassmen.
"[Mallory] is a mentor and an advocator, but he can also be a humbler when I need it, when my ego was getting the best of me," noted Walker.
Mallory has a great coaching system. He understands the sport very well. Jack Neely noted that one of Mallory's best coaching qualities was his consistency. Mallory focuses on one or two moves at a time and makes sure all of his students have got a grip on the moves before moving on to something else. He makes sure he leaves no one behind
"He has helped me a lot. Freshman year, I lost almost every match. Sophomore and junior year, I made it to state, and, this year, I am on the road to going to state," said Neely.
Another quality highlighted by the seniors was Mallory's ability to lock the rest of the world out during practices and matches. Mallory only focuses on wrestling during these times and it effectively helps improve the students by allowing them to better focus on the sport as well.
"He checks [our] grades to make sure we are doing well. He always keeps us under control during tournaments; he knows how to take charge," shared Wright.
Mallory has had a separate, but equally important, impact on each one of these seniors. The four years spent together has changed each one's life for the better.
"I couldn't ask for a better group of young men to work with," shared Mallory.
Neely, Walker, and Wright are continuing their hard work and effort into their last season of high school wrestling. They intend to leave an impact on the team that will continue to inspire the team long after they are gone.
About the Contributor
Blake Catlett, Editor
Hey! My name is Blake Catlett, I am a senior, and this is my fourth (and final) year serving on the Digest! This year, I will be serving as Editor. I spend...