Central's Wrestling Pounders Persist to Victory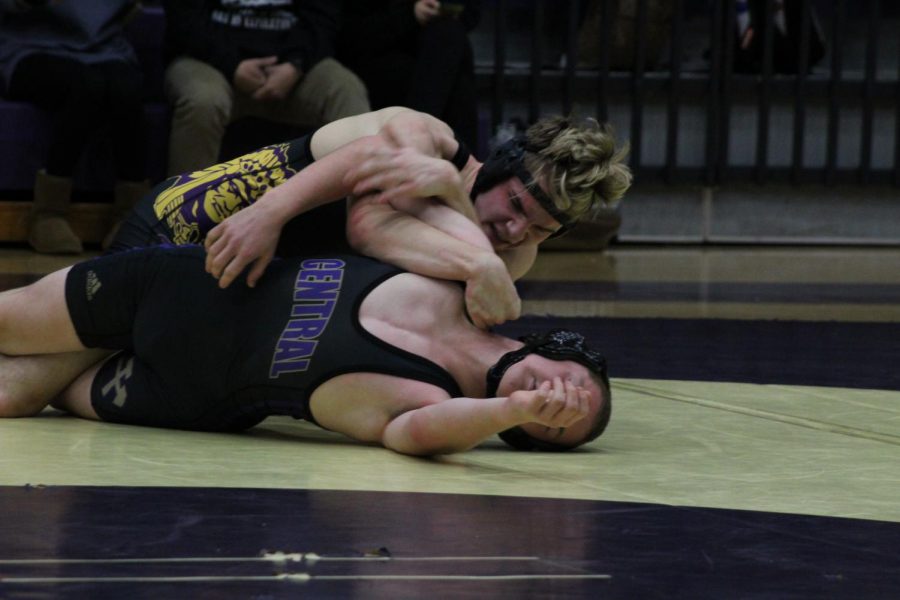 Wrestling season is in full swing and the Pounders have demonstrated great excellence at their meets; having achieved many wins for those dedicated to the sport.
In more recent news, members of the boys' wrestling team took home the gold from their tournament that took place at Coahulla Creek High School in Dalton, Georgia. Senior members continue to discover each wrestler's strengths and weaknesses, as Head Coach Ryan Mallory recounts power plays made on the mat. The tournament at Coahulla was the first Annual Coahulla Classic, or the first tournament hosted at that location. According to players and parents, it went smoothly except for the lack of proper seating; the gymnasium was extremely crowded.
Late coverage records a dual meet on January 11 against the Upperman Bees, which resulted in a loss for Central 41-30. Another meet that took place January 14 brought a win for the boys' team, 33-17, over Polk County. On January 16, the Pounders suffered an unfortunate loss of 73-6 against Hixson's Wildcats; Senior Jack Neely was recognized as the only winner for Central.
"I would say that Hixson is the closest our school has in terms of a rival," said Coach Mallory. "They have more weight classes, and gain points mostly by forfeit."
Each forfeit is worth six points, the equivalent of a match won by pinning an opponent.
The weekend's tournament that took place January 25, brought success for the team especially for the seniors. The much-held anticipation proved worthy to Senior Donavyn Walker, who won his first tournament championship at Coahulla. He won against McAdory High and earned Central's only first place medal.
"The team still needs to show some improvement, but everyone who should be going to state probably will. We're in a rut, but I sense a new beginning coming up," stated Walker. "Older members did better, and newer members showed improvement in their technical ability to react and think these past two weeks."
On January 28, the boys went up against Howard High for a resulting win of 45-12 for the Pounders. Two days later, there was another meet, this one against Chattanooga Christian School, which resulted in a loss 73-6.
With regional tournaments coming up in just two weeks, one more dual meet between the schools covered took place Tuesday, February 4 against Ray County.
"I wouldn't be surprised if we put four members through to state," said Coach Mallory.
Only the top four placers in regionals go on to state tournaments; all of the team's hard work this season is sure to gain spots in state tournaments this year.
Readers can view the latest sports updates on the sports center page. Where schedules, scores, and rosters are posted.
About the Writer
Morgan Snyder, Columnist
Hi! My name is Morgan Snyder, and I am the Digest's new senior columnist. Even though it is my first year on the Digest, I love it very much. I am very...