Underclassmen Concentrated Baseball Team is Optimistic for New Season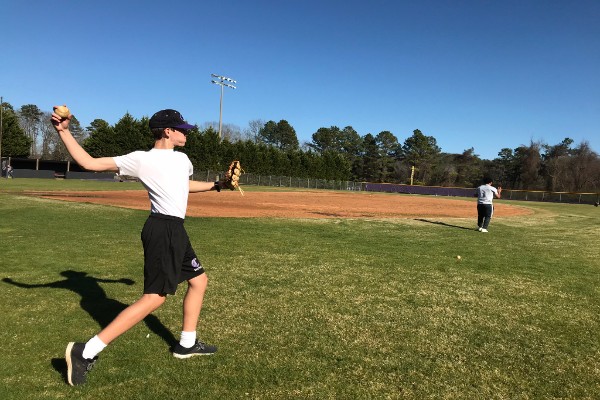 As the second semester of the 2019-2020 school year begins, so does a new season of baseball. This season is highly anticipated by the players, coaches, and dedicated fans. The team hopes to perform better than they did last year by setting goals and sticking to them.
The players started preparing in September by mainly lifting weights, throwing, and hitting the ball. Tryouts were February 10, and the first official game is March 10 against the team's biggest rival, Hixson High School.
The 2018-2019 baseball season was a season to remember. The team placed third in the district, right behind Hixson High; however, they only won 14 out of 30 games and did not make the state playoff tournament. Head Coach Glenn Carter was a bit disappointed; he hoped for a better outcome.
"We had high hopes going into the season, but we fell short of our goal for the season," commented Coach Carter.
Despite this, he is still proud of the boys' hard word and dedication. Carter is highly anticipating this new season, with the leadership of the four seniors on the team, and he is expecting great things.
The seniors on the team this year are Malcolm Tutton, Andrew Merriweather, Tyler Mullins, and Kiyah Samuels. Carter has appointed all the boys as leaders on the team. The team last year had more seniors on the team than underclassmen, with a grand total of 11 seniors. The team this year has become more concentrated with underclassmen.
"We will be a young team, but that's not a bad thing. I will have to teach a lot of young players the way we play certain situations in a game, whereas last year, with 11 seniors, I didn't have to worry. Most of them have been playing for three years and understood what we wanted to do in every situation. I expect a lot of mistakes and learning on the go early in the season, but I expect in May, when it's time for the District Tournament, for us to not be making the same mistakes and be a very competitive team," Carter optimistically stated.
The seniors on the team are very eager for the season to start and have set goals for both themselves and the season.
"This season is weird because I used to picture myself as a senior on the team, and it's crazy that I am already here. It went by so fast. I want to make sure my younger teammates remember me; I want to make it the best. I feel like it is a good thing to have a younger team, though. The freshmen are just as mature as the seniors since we help them, but don't push them around," said Senior Kiyah Samuels.
"My job as a senior is to guide the younger players in order to create future leaders of the team and help them become better baseball players," added Senior Tyler Mullins.
Along with the seniors' plans of action, Carter has also set goals to improve the team and go father than they did last year.
"Baseball is an individual team game, unlike football or basketball where it takes every player working together to make a play work. In baseball, you are the one hitting, or you are the one catching or throwing the ball, but what you do collectively as a team determines how successful you will be as a team," Carter concluded.
About the Contributors
Abby Young, Staff Writer
Hello! My name is Abby Young. I am a senior here at Central and this is my second year on the Digest. I am unsure what I want to pursue after I complete...
Cassandra Castillo, Copy Editor
Hey! I'm Cassandra and I am a senior here at Central. This is my third year on the Digest and I have taken position as Copy Editor. My pastimes include...