AP Psychology: Students Studying Rats As Part of Year-Long Project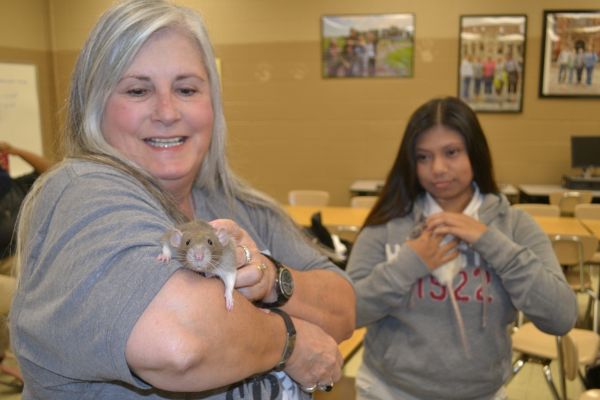 Central High School's AP Psychology class mixed things up this school year with two furry friends. The class of eight students brought in two rambunxious rats to train as their big experiment.
"I think [they'll] be a good experiment. It's a year-long thing," stated AP Psychology teacher Tina Staton. "We'll have to keep a journal and log how they progress and everything you do with them."
The project was chosen when the AP class began watching "Rat Trick," a video on YouTube. The students found the idea of the tiny, precious animals doing tricks spectacular. After just a little convincing, Staton ordered the cages, and the rat project was underway.
The students split themselves into two separate groups, one group per rat. Each group will be working until the end of the school year to teach and train the rodents.
"Training either one of the rats will be a challenge, so both groups have a long journey [ahead of] them," said Staton.
One of the groups consists of Alyssa Rosenzweig, Johanna Degel, Ashley Rogers, and Yoselin Tesorero. These students plan to devote their time to training the younger, more rambunctious rat, Freud, named after the famous psychologist, Sigmund Freud.
"He's really energetic and he won't sit still for too long, which will make it harder to train him," commented Tesorero, "but I'm still really excited."
The other group chose the larger and slightly older rat, Leopald, nicknamed Leo. Leo will be trained by Justin Metcalf, Xaria Goode, and Daejanae Williams. Despite his age, Leo is just as curious as young Freud.
"Leo is kinda lazy, and he sits around a lot more than Freud, so I'm not sure how he'll be when we want him to actually do something," noted Goode.
The training began on Tuesday, September 8. Freud and Leo, along with the AP Psychology students, are eager for the rest of the school year and are excited to learn from this experiment.