Student Teacher Instructs Aerobic Dancing for Freshmen P.E. Classes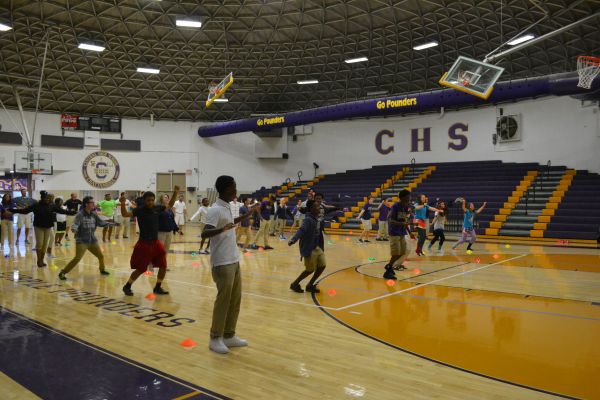 Central High's wellness and P.E. classes educate students on how to be healthy and active in a variety of ways.  This year, Coach Glen Carter's classes were pleasantly surprised to have a student teacher, Mr. Andrew Hitchcock. On Wednesday, September 9, Hitchcock threw a twist at the class by giving students the opportunity to get moving in a different way – by dancing.
Students were split up into groups of three to five people and had make up an aerobic dance to a song of their choice. The groups were only given two class periods to create, practice, and master their dances.
"After having to do an aerobic dance [class] in college, I wanted to get students involved by being able to choose their own music and do a dance," explained Hitchcock, who is a student at the University of Tennessee at Chattanooga.
At first, most students were very hesitant and not excited about dancing. However, once groups started performing, students became more comfortable with dancing among their classmates.
"I really enjoyed it – it was fun. The dance ended up [being] a lot easier than I thought it would be," stated Matthew Phan, a freshman wellness student.
From the chicken dance to Taylor Swift, the groups chose a wide variety of songs to dance to. The assignment allowed students to express themselves in a different way, especially compared to typical wellness activities.
"My favorite song to dance to is probably either 'YMCA' or 'The Cupid Shuffle,'" shared Hitchcock.
Despite initial hesitation, the aerobic dances turned out to be a great way for students to get exercise, be creative, and have fun. The Central Digest is excited to see more good things come out of wellness classes, and we hope Mr. Hitchcock will continue to bring new ideas to the class.