Dual Enrollment Classes Are a Big Boost For College-Bound Seniors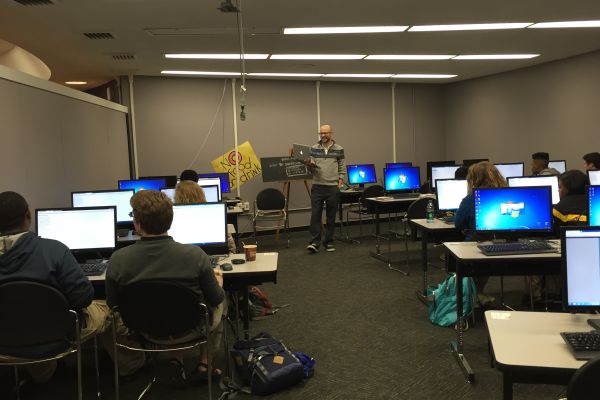 Central High School is all about offering a wide variety of classes to students no matter what they wish to become after high school. We have everything that is required and more to help students on their path to success. Multiple language, science, technology, and art classes are offered to students.
In addition, Central has partnered with Chattanooga State Community College to offer Dual Enrollment English and math classes to juniors and seniors who want to get a head start on college. Dual Enrollment allows students to receive high school and college credit for taking one class, putting students ahead in the game of life after they graduate.
"I think Dual Enrollment definitely prepares students for the rigor of college. We are lucky at Central to be able to offer multiple formats of DE – online classes as well as classes offered with a live instructor," shared senior counselor Lindsey Ruggles. "Based on my own experience as a former Dual Enrollment student, I can say that I personally felt more confident going into life as a freshman at a four-year college."
Dual Enrollment comes at a cost of $500 per course, but the total is significantly lower than that of the exact same class at Chatt State and other colleges. Students can also apply for a grant that can decrease the amount by more than half. To qualify for the grant you must have and maintain at least a 2.75 GPA. Student's eligible for the DE Grant may receive up to $1,200 per award year.
So is Dual Enrollment really worth the time, effort, and money?
"I think Dual Enrollment is absolutely worth the money," exclaimed Ruggles. "Our Dual Enrollment classes are core classes that every college freshman is going to take, so the dilemma becomes pay now or pay later… For students planning to attend a community college like Chatt State and planning to take advantage of the Tennessee Promise, I have to say that I still think it's a good idea; if you have already taken one or two college classes in high school, you can use your Tennessee Promise money for other classes you have to take at a four-year university."
The DE students seem to be enjoying their classes and are getting a small taste of what college is really like.
"Dual Enrollment is paving a path to my future college career and preparing me for the long journey ahead," stated senior DE student Skyler Dill.
Central plans to continue their partnership with Chatt State and offer Dual Enrollment for many years to come.
About the Contributors
Payton Haley, Staff Writer
Hi, I'm Payton! I will graduate this year with the Class of 2016, and I couldn't be more excited. This is my first year on the Central Digest staff, and...
Jadyn Snakenberg, Copy Editor
Hi friend! My name is Jadyn Snakenberg. I am a senior and the Copy Editor of the Central Digest. This is my fourth year at Central and my third year on...