Concert Choir Performs at Festival, Continues to Show Improvement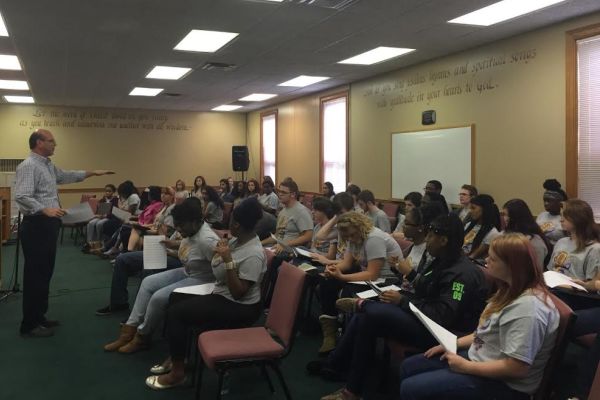 Hang on for a minute...we're trying to find some more stories you might like.
At Central, there is a surplus of talent in every subject. On Tuesday, September 29, the Central High School choir went to a choir festival at Ridgedale Baptist Church. This opportunity was a way for the choir to get feedback from other groups, teachers, and judges to improve their sound. The group performed the songs "Cantate Domino," "Let Everything That Hath Breath," and "In You I Found."
"I learned about teamwork and how everyone has to hold their own weight," stated Autumn Hansard, a sophomore choir member.
The judges rated the choir very well. They said that the group had a very loud sound with a nice tone, which can be difficult to master. The judges' scores and notes revealed that the choir could improve on their individual parts because the group struggled with that.
"I was really proud of the group because they gave it their all, and that's all I can ask for," said Dr. Martha Boutwell, Central's choir teacher.
Since the beginning of the school year, the group has improved a lot. They have memorized their music and learned how to work as a group, not simply as individuals. They have learned how to contribute to the group while not overpowering. Most importantly, the members have created lasting relationships and a tight-knit bond with one another.
"My choir family is my real family, and I love spending so much of my time with my favorite people," shared senior choir member Katy Pollock.
As the year goes on, the Central choir is sure to get better and better, and the Digest cannot wait to hear them sing their way to the top.

About the Writer
Matthew Davis, Assistant Editor
Hi! I am Matthew, and I am a Senior here at Central. I am a member of the Central Sound marching, concert and jazz bands (award winning bands, btw!). I...