Government Class Puts Politics Into Perspective for Central Students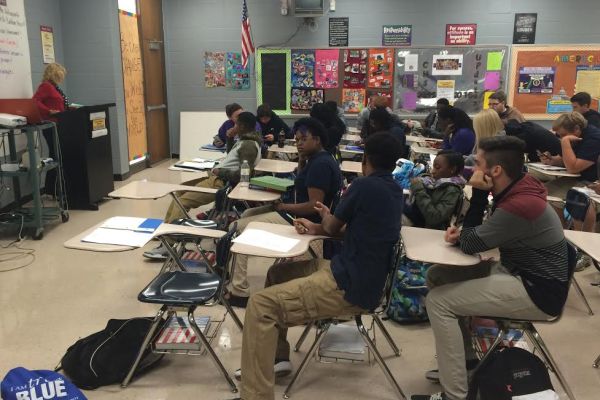 A government credit is required for all Hamilton County students who want to graduate from high school. The course teaches kids about the nation we live in as well as keeping them informed on important current events. One of the main goals of the class is to educate students on the trials and responsibilities of being a citizen. This helps increase the participation in the democratic republic we live in.
"I think this class is so important considering many of us are becoming adults and [are now] able to vote. We need to be informed so that we can have our country's best interest in mind," commented Emma Beach, a very politically-involved senior student.
Recently, the students had to take the United States Citizenship Test as well as the Voting Test from the mid-1800s used against immigrants who wanted to vote.
"I use a variety of tests so that students have an equal opportunity to comprehend what I'm teaching. After all, this class is supposed to equip each kid with the knowledge that he or she needs to make a difference in their society!" shared government class teacher Beverly Hollingsworth.
The results to these tests were eye-openers for all of the students.
"Those tests were super challenging. There's almost no way anyone could know all those answers. It must have been so unfair," noted senior Andrew Wilson.
Overall, this course has tremendously helped students learn more about the United States' political systems, policies, and roots. The Central Digest is grateful to Mrs. Hollingsworth for investing in the future of our students.
About the Contributors
Samantha Scott, Staff Writer
Hey there! My name is Samantha Scott. I am a senior this year, and I enjoy playing sports and writing! I have been the varsity liberro, or defensive specialist,...