"Star Wars: The Force Awakens" Thrills Central's Loyal Star Wars Fans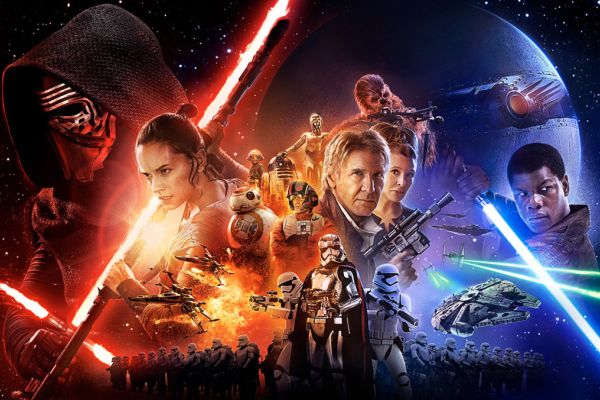 The force was most definitely awoken this winter with the introduction of the first in the sequel trilogy of the Star Wars franchise.  Star Wars: The Force Awakens, the seventh movie in the series, united loyal Star Wars fans from around the world. The use of both new characters and those native to the trilogy awakened fans with excitement.
Despite the original films being released over 30 years ago, Star Wars is an enthusiastic topic for many generations. Current students may feel more familiar to the prequel trilogy released in the early twenty-first century, rather than the original films released in the late 1970's and early 80's.
"After seeing the prequel trilogy, my expectations were mixed. It was very entertaining, even thought I felt the plot was similar to episode four," explained Jackson Dummer, a sophomore at Central.
Star Wars: The Force Awakens is set after the original three movies of the trilogy. A new character, 'Rey', played by Daisy Ridley, is a lonely scavenger from the planet Jakku. She meets up with 'Finn', a revolting Stormtrooper, played by John Boyega, and together, they join forces with the Resistance, a small military force founded by previous Princess- now General- Leia. They set out to fight against the new evil villain, Kylo Ren, of the First Order.
"My favorite new character would have to be Rey since she seems more composed than others characters. However, over-all I'm still a big fan of Han Solo," shared Dummer.
The new movie received very high ratings and reviews all around. IMDb rated it a 8.4/10, Rotten Tomatoes gave the movie a 93% approval rating, and Metacritic gave an 81%.
"I thought the movie was fantastic. It was an excellent way to bring in new generations of fans to Star Wars," stated Chris Kribs, 9th grade world history and geography teacher.
After George Lucas, the mastermind behind Star Wars, sold his company, Lucas Films, to Disney, some fans had mixed opinions. However, after record-breaking sales and fantastic reviews of the new movie, the business acquire seems very profitable and effective for the franchise. The new movie flew into United States box offices and passed 2009's Avatar to become the highest-grossed film in North American history.
The Central Digest encourages any and all movie fans to see Star Wars: The Force Awakens, but most importantly, may the force be with you.
About the Contributor
Preston Fore, Editor-in-Chief
Hi! My name is Preston Fore. I am currently a senior at Central, and this year will be my fourth and final year on the Digest; I am very grateful to serve...