Skills USA Robotics Team Works Towards State Competition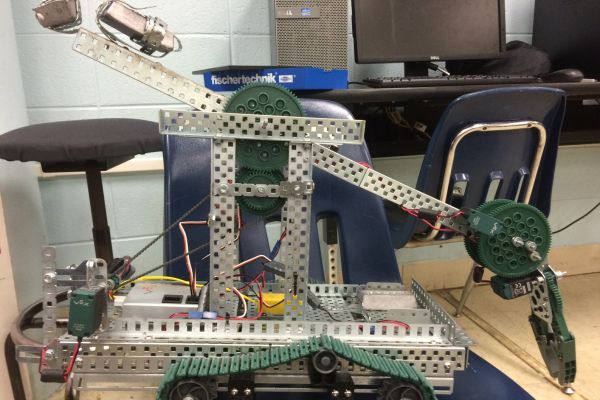 Central High School's robotics team has been working towards achievement at competitions around the region. Mobile robotics technology tests robotic team members' creativity, problem solving and teamwork abilities as they prepare to compete against other schools. Central's students practice cognitive thinking and teamwork at every competition they compete in.
"Central's robotics team has six students. We've already competed in two other competitions, and we placed third in both. The team is always looking for new participants," explained Keith Bright, Central's drafting instructor and robotics supervisor.
During robotic competitions, participants must work as a team to build, test and compete with their robots.
"I love robotics. The competitions are very exciting, interesting and competitive," shared freshman robotics team member, Tyler Hindman.
Robotic competitions are not as easy as they may sound to some. Students do not simply drive around a simple robot. More creativity and precise details are necessary to succeed.
"The robots must be able to overcome obstacles as they are driven through courses. This could involve simply driving around obstacles in their path, or more complex challenges such as picking up objects and moving them to a designated location," stated Bright.
Although robotics may just seem like driving a mechanical, mobile robot around, robotic competitions can help students better their sportsmanship, critical thinking, and ingenuity.
"Being involved in the robotics team in high school could help students with further careers in STEM programs," shared Hindman.
The Central Digest encourages students to get involved in extracurricular activities, such as joining the robotics team, as students may never know what they will end up enjoying! The Digest also wishes the robotics team good luck at any further competition!