Central's 'Nervous Freshmen' Transitioning into High School Life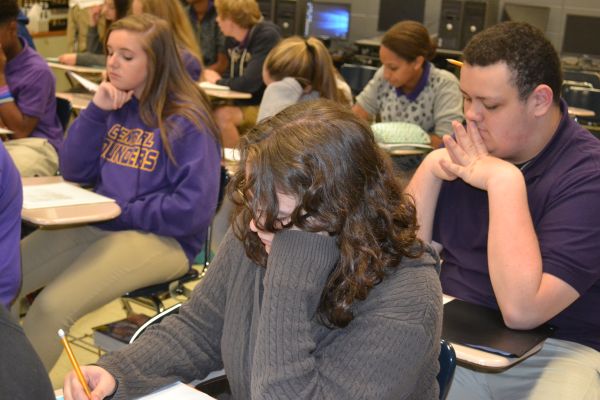 Most students are familiar with the expectations and atmosphere here at Central, but for freshmen, this year will be a new chapter in their lives. Although their 9th year has just started, new students have pretty much learned all the ins and outs of the facility.
"I know my way around most of the school now, so I will not have to worry about being late to class," remarks Cassandra Castillo, a new freshmen at Central.
After the first week, it was clear to them that high school is not what the movies make it out to be. There are not evil teachers and bullies lurking around ever corner, the upperclassmen are not out to get the freshmen, teachers will not give out pop quizzes everyday, and there most certainly is not any time to hang around in the hallways or at your locker. High school is just a place with the right mix of responsibility and self-discovery.
There are plenty of students who admitted they were somewhat nervous on their first day, so no one was completely on their own. With the aid of office staff members, upperclassmen, and teachers, new students were able to make it to all of their classes and be prepared for the work that lies ahead.
Although a good majority of freshmen were concerned about high school, there were a few people who were not that worried at all.
"I like high school the best, but it feels the same as middle school," Danae Wnuk admitted.
Middle school and high school do share a few key characteristics, however the freedom granted to students is what separates the two. At Central, phones are allowed in between classes, and you get to choose what courses you want to take. Another thing freshmen may have noticed was the self-serve food area and concession stand in the cafeteria. Students were also surprised when the janitor, Mr. Antonio, picked up their trays when they were finished.
With college looming in the distant future, ACT and SAT exams are all things that freshmen may not necessarily need to stress over at the moment, but the exams are definitely things freshmen should be thinking about,
"I'm really worried about 11th grade," Irina Gudnyy says, "It's the hardest year of high school."
The students are getting into the habit of writing down their assignments, spending less time on the internet, and turning in work early.
Colleges prefer applicants who are active in the school and their communities, so extracurricular activities are another way to feel more in touch with the school. Joining different sports and clubs are also a great way to learn more about yourself or make new friends.
There are rules in place to keep everyone on track, and they are not meant to hinder anyone from being themselves. The purpose of high school is to help each individual find their place in the real world. Luckily, there is an entire building full of people that will help guide freshmen to the road of success.
About the Contributor
DayOnna Carson, Editor-in-Chief
My name is DayOnna Carson, and this is my fourth year being on the Central Digest! I love reading and making stories of my own, so I am glad I got the...