2016 Central High Homecoming Royalty Crowned at Football Game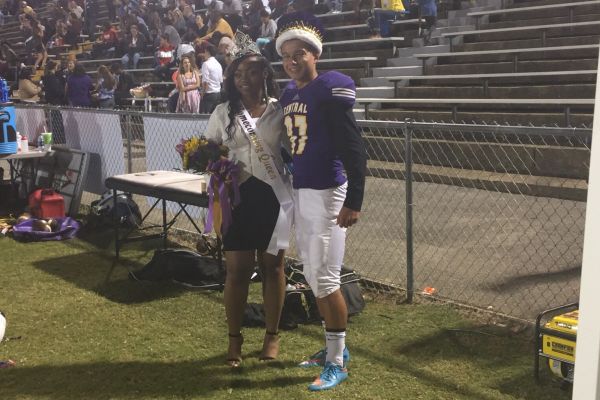 Homecoming is a tradition celebrated all over the United States. It is a celebration built around an event, such as a football game, where alumni of the high school or college come together with the current generation of students to enjoy some time together.
Although everyone loves coming home to their alma mater and reconnecting with old friends, the main attraction is the crowning of the Homecoming King and Queen.
This year, Central High's Homecoming football game was held on October 7th, versus Hixon High School, where Diamond Jackson was announced queen and Jared Eddy was announced king.
"I was so shocked that I won, I couldn't believe it. I have always dreamed of being Homecoming Queen, ever since I was little. I would always talk about it. Winning was definitely a dream come true for me," shared Jackson.
Jackson was voted queen out of seven ladies on the court, and Eddy was voted King out of five gentlemen on the court. The student body voted for both king and queen, basing their decisions on what the person has achieved and contributed throughout their high school career. A short synopsis was given on all of the candidates so the student body could make an informed decision about the most fit candidate.
"People know me well because I try to be so involved with the school. I lead many school activities, such as pep rallies, and help in any way possible wherever anyone needs it. I also try to keep this motto outside of school so I can be just as useful in the community," revealed Eddy.
Since both the king and queen are both such kind, amazing people, they wanted to share a quick message with all the people who voted for them.
"Thank you so much! This is truly a dream come true for me, and I would not be here without you. I'm so proud to be your 2016 Homecoming Queen!" expressed Jackson.
"Thank you for voting for me, it is truly an honor to hold this title! Winning this title was definitely a confidence booster for the game!" divulged Eddy.
The Homecoming game was Central's second-to-last home football game of the year, the last of which being this Friday, October 21st. This game will be "senior night", where all the seniors on the football team, cheerleading squad, and in the band are recognized on the field for all that they have done, so come out and support the Pounders!
About the Contributor
Matthew Davis, Assistant Editor
Hi! I am Matthew, and I am a Senior here at Central. I am a member of the Central Sound marching, concert and jazz bands (award winning bands, btw!). I...