Busy Season for Central's Concert and Jazz Bands
November 11, 2016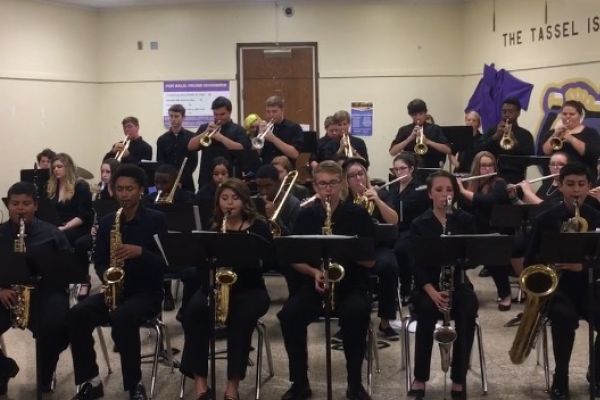 Jacob Johns
Central's jazz band hosted a "Coffee and Dessert with the Jazz Band" concert Thursday evening and the turn-out was great. Members of Central's Alumni, members of the community, and band parents came out to support the newly-created band in its first year.
The concert happened to be on the night of the Alumni Association meeting, which allowed many alumni members to see the band.
"As we were searching for a date for the jazz band to preform, I tried to do the concerts on Tuesdays or Thursdays. I also knew that I wanted to have a date somewhere around the end of October or early November to be near the end of the 9 weeks, so that would give us enough times to rehearse and prepare." stated Band Director, Joshua Bloodworth,"It just so happened that the Alumni Meeting was in the same time period, so I asked Mr. King if it would be okay to have the two coincide. I thought it would be great to connect the Alumni Association with our current kids and would be able to show them how the new jazz program will be a great outreach program for carrying the banner of Central High School proudly."
Though the band is called the "jazz band" the band does not play typical jazz, one trait that the members cherish.
"The kids are really enjoying the jazz program right now." shared Bloodworth,"We don't just play "traditional jazz" or swing music. We play popular music from various decades as well. The first jazz bands functioned as living jukeboxes that were asked to play all of the popular songs and styles of their day at dances and parties. That is the general directory I am wanting to take the group in by performing music from various decades and various styles. We are playing classical jazz swing charts like "Take the 'A' Train" and "Round Midnight", but also the music of pop artists like Stevie Wonder and Adele."
The jazz band played a variety of music including title: Hello, Superstition, Round Midnight, Africa, Birdland, and a few more.
"I think we preformed really well. The atmosphere was lively and there were people dancing. I feel like that was the best we have played those songs, thus far, and everyone really enjoyed it," stated Morgan Frame, a sophomore percussionist.
The concert band also had a concert last Sunday, November 6, at Ringgold High School. They played the following selections as their fall concert: Groove Music, El Relicario, Celtic Farewell, Fate of the Gods, Fantasy on a Japanese Folk Song, and Brazil: Ceremony, Song, and Samba. Feel free to click the song names to listen to the music played by our concert band!
Be sure to attend the next jazz Band concert on December 10, 2016 at 7:00 PM at Hamilton Place Mall.