Brooke Parrott Signs to Play at Tennessee Tech University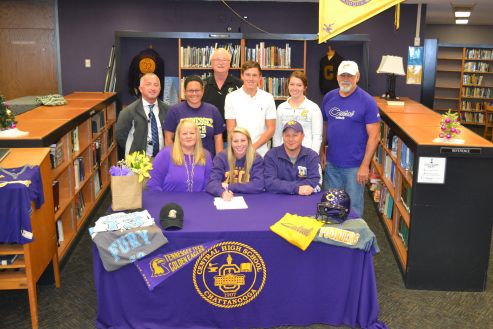 After many years of hard work and hundreds of games, Brooke Parrott has signed to play for Tennessee Tech University to continue to play softball throughout her college career.
"I am very excited to play Tennessee Tech," said Parrott. "The coaching staff and players there are just so friendly and accepting."
This senior has had a successful high school career at Central, winning three straight district and regional titles. Parrott also led the team to the state tournament her sophomore year, where they placed third.
Tennessee Tech has become a force to reckon with in the Ohio Valley Conference in recent years. Tennessee Tech has won seven OVC titles and made seven NCAA Tournament appearances.
"Brooke is a great leader and teammate," added Coach Shurette. "We are going to miss her when she is gone but we know she is going to do great at the next level."
Many of Brooke's friends and family were in attendance at the signing.
"I'm super proud of my best friend," said Brooke's close friend, Rachel Woodard.
This signing is the first of many to come for all sports for the class of 2017, which has already had several commitments for many other sports.
"It's really exciting for Brooke because she has been dreaming of this moment for a long time," said Alyssa Barclay, another one of Brooke's closest friends.
Parrot signed on as a pitcher, the position she has played her whole softball career. She plans to major in education and be a gym teacher someday.
"It's been a fun 13 years," said Parrot. "I'm just ready to start playing."