Nine Central Band Students Chosen to Perform at University of Georgia's JanFest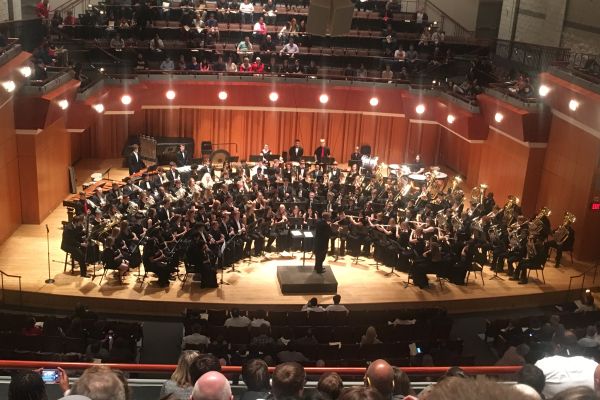 Central's band students are always working diligently to expand their knowledge of music, and this new calendar year will be no different. Many Central students who are involved with the band program auditioned to participate in the 2017 January High School Festival (JanFest) at the University of Georgia. Nine of the students who auditioned were selected to perform with some of the best high school band students in the nation. Band Director Joshua Bloodworth and the selected students give an insight to the preparation and responsibility that comes with this honorable opportunity.
JanFest is a four day event that is held at the University of Georgia, and unifies high school students from multiple states in order to present an exemplary musical performance in front of a large audience. This year, Joshua Bolton, Taylor Cooley, Jackson Dummer, Lacy McKinney, Joshua Sizemore, Savannah Smith, Miranda Spainhower, Kymmy Stacks, and Georgia Teems are among those who were chosen to perform at the event that lasted from January 19th through the 22nd. Typically, only half that amount of Central students are picked to play at JanFest, but we were fortunate to have such a large number of students accepted this year.
"It's honestly scary and amazing at the same time because you play with people who you've never met before, and usually the crowds are really big," admits Lacy McKinney, who played clarinet in one of the top bands.
This Hugh Hodgson School of Music tradition has been around for over 65 years, and features approximately 1,100 student performers from over 100 high schools.
The student selection process starts when band directors nominate students at the beginning of the school year. Later, the University of Georgia staff chooses participants based on the band director's nominations, each student's individual musical accomplishments, and the instrumental needs of the festival band. Students practice diligently for their auditions to improve their skills and increase their chances of becoming part of this unforgettable experience.
"The students had to fill out an information form about themselves (i.e. their achievements, what year they were in school, etc.), and then I had to nominate the students I felt were deserving to go," reveals Bloodworth. "From my nominations the University of Georgia selected the applicants based on their resume and the instrumentation needs of the 8 bands that they were filling."
"I just practiced continuously and I worked really hard to get in a good band," says McKinney. "Getting to know the directors and listening to the bands are probably the biggest reasons I wanted to go."
"The students chose to participate in this event for a number of reasons, but most notably, it was an opportunity to perform with 1100 of the best band students from across the Southeast under the instruction and baton of some of the top college and high school band directors in the country (and sometimes the world)," Bloodworth added. "Directors included professors from the University of Wisconsin, the Queensland Conservatory, Western Carolina University, and the University of Georgia, along with high school band directors of nationally recognized programs like Lassiter High School in Georgia and Wando High School in South Carolina."
JanFest attendees get the privilege to hear from several different band groups including the UGA Wind Ensemble and other guest performers. In these concerts, several music genres were featured, including jazz, marching band, and symphonic pieces.
JanFest was a huge success this year, and we are proud of every student who got the privilege to take part in the concerts. Central hopes to be involved with more experiences like this in the future, and is looking forward to next year's festival.
About the Contributors
DayOnna Carson, Editor-in-Chief
My name is DayOnna Carson, and this is my fourth year being on the Central Digest! I love reading and making stories of my own, so I am glad I got the...
Savannah Smith, Editor-in-Chief
Hi, my name is Savannah! I am a senior and this is my third year on the Central Digest Staff! I am the Editor-in-Chief for the Digest and I would...