Teacher Spotlight: World History Teacher Chris Kribs Is Described As One of the Favorites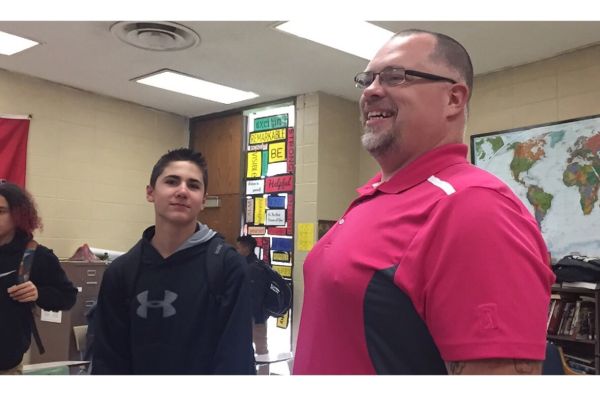 For the majority of students, when getting asked what you like about your teacher, good things aren't really what come to mind. However, 9th grade student have a different opinion of World History and Geography teacher, Chris Kribs.
"He's more involved with students, he is interested in what goes on outside of school instead of just inside the classroom, he always checks up on us to make sure we are doing okay and if we need anything," shared Freshman, Skylar Murray.
Kribs has been teaching since 2002 and has taught in Oregon and Nevada for 6 years before he came to Chattanooga. He attended Western Oregon University and  Grand Canyon University where he got his masters in administration.
Before Kribs began his teaching career, his mind was focused on many other things.
"I wanted to be a navy fighter pilot, then I realized I was to big for that. I also wanted to be a heavy construction equipment driver," stated Kribs.
A 9th grade teacher, Randy Rutchmen, helped turned his focus towards teaching.
"Randy helped me and I wanted to make a difference in someones life," explained Kribs.
His career as a teacher also came with one of his most prized accomplishments.
"My biggest accomplishment was being chosen by the senior class as their graduation speaker for 4 years in a row in Nevada. One of those years, I was chosen teacher of the year," said Kribs.
For Kribs, teaching has had a positive effect on his life along with the lives of students.
"My main goal in teaching is to have young people more aware of the world around them," shared Kribs.
"My favorite part is being around the young people and getting to play a small role in their lives. I have an opportunity to show people that history is the best subject ever. I get to get up everyday and have fun. I blast music from the mighty Metallica to Bon Jovi every passing period and hang out with like minded teachers," added Kribs.
Students have agreed that Kribs is one of their favorites. Freshmen students, Kaitlin Sipe and James Ortiz expressed their thoughts about Kribs and why they like him as a teacher.
"I like the approach he takes when teaching, and he also is a pretty laid back teacher. He makes sure what needs to be done is done, and takes time to make really interesting lesson plans," stated Ortiz.
"I agree that Kribs is a laid back teacher. He is understanding like if you are having a bad day, he knows how to joke around to make it better. He takes his time and doesn't rush teaching," concluded Sipe.
About the Contributor
Meghan Duncan, Sports Editor
Hi, my name is Meghan Duncan. This is my third year on the staff and my second year being the sports editor. I have been cheering for 3 years at Central,...