Students and Faculty Donate at 2017 Spring Blood Drive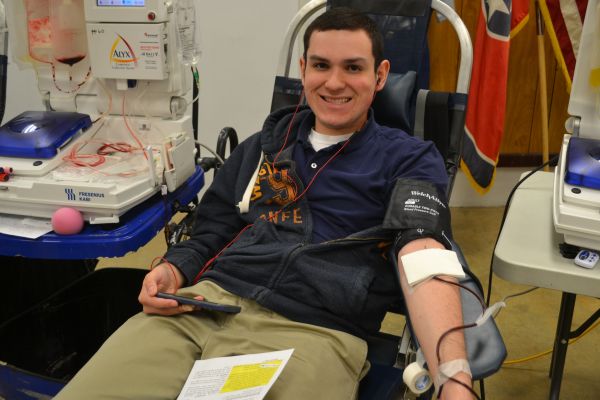 The JROTC hosted the Central Spring Blood Drive on March 2. Approximately 165 Central students signed-up to donate. Of the 165 that signed-up, approximately 51 of those students were first-time donors.
"This is my first time giving blood; it was uncomfortable, but definitely worth it. I was scared that I wouldn't be able to handle the feeling of getting my blood drained from my body and pass out, but it wasn't as bad as I though it would be. I didn't even come close to passing out," explained Matthew Frazier, a sophomore. "I will definitely donate again; once you go through it the first time, you know that there's nothing to be afraid of. Saving lives seem more important than my discomfort."
"We had so many donors near the end of the day that we had to reject some students because they would have missed their bus waiting," stated Colonel Brooks, supervisor of the Blood Drive, Department Head of the JROTC, and the Senior Army Instructor. "I would say that the Blood Drive went by smoothly."
Before going into the process of planning this event, there is something that must be made clear according to Colonel Brooks.
"The Blood Drive is a student-lead event, it is a service-learning project for the JROTC," elucidated Colonel Brooks. "The students are the ones who check-in the donors, check donor IDs, make sure that the donors are well rested before leaving, and are also the ones who go out searching for donors at their appointment if the donors do not come themselves. They have stations. I just oversee the event."
Before blood can be drawn from donors, there is some work that is put into hosting the Blood Drive.
"First, we determine available dates with Blood Assurance that does not conflict with either Central's nor Blood Assurance's schedule and then the buses' schedules," began Colonel Brooks. "From there is just coordination which I say occurs in three steps: sign-up, which generally occurs two weeks in advance because any earlier and the donors would forget and and later would be poor planning, advertisement, which is making and putting up posters generally one week before the Blood Drive, and then finally execution which occurs on the day of the Blood Drive."
On execution day, set-up begins at 6:30 a.m..
"The buses pull in, the JROTC volunteers and some parent volunteers set-up the resting area, waiting area, and sign-in area," phonated Colonel Brooks. "When the donors signed-up, they setup and appointment and received an appointment card. The Donors are expected to come down to the Armory at their appointed time and sign-in for their medical screening. Once the screening is over and they are eligible to donate, they donate, come back into the armory, and recover for at least 15 minutes or until they look well enough to be returned to class."
Despite all of the efforts that are put into each blood drive, there are eligible students that do not donate blood.
"I think that the main reason and cause of fear of donating blood is the needle and also because the students talk to the wrong people who sometimes haven't even donated before. It is human nature to fear the unknown and it is not in human nature to want to be pricked. All that it takes is to have courage and the idea of wanting to help others," explained Colonel Brooks. "The legit reasons for not donating blood can be for health reasons, such as not meeting the donor requirements."
The next blood drive, this fall, is scheduled to be on November 2, 2017, while the next spring blood drive is scheduled to be on March 8, 2018.
"Just remember, one unit of blood saves three lives, although the process might be slightly unpleasant, your efforts are saving three whole lives," concluded Brooks.