Welding Class a New Challenge for Volkswagen Mechatronic Students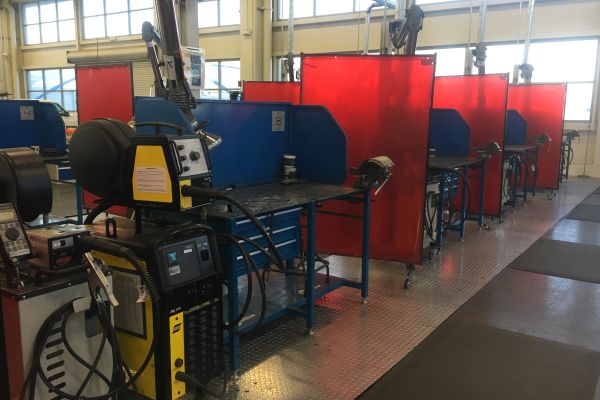 A new challenge has been presented to the Volkswagen Mechatronics Akademie students this spring: a welding class. This semester the 27 students —  including seven from Central High School — are busy learning the basics of welding. The majority of their work is spent joining together metal pieces of scrap metal by heating the surfaces to the point of melting using a blowtorch, electric arc, or other means and uniting them for different projects and assignments that will help them in the future.
"Basically, we get the hands-on training for the workforce for here at VW — or just anywhere in general. We weld as much as we can and we practice a lot," said junior Blake DeYoung.
The classes are split up into five groups with three groups rotating every day, allowing every student to weld at least three times in the week. Each mechatronic student is required to wear jeans, steel toe shoes, leather gloves, welding jackets, their gray cotton shirts, and goggles for safety purposes.
"Welding is something I have always wanted to try and that is one reason why I wanted to come here," explained Brianna Tittle, also a junior. "I also really enjoy hands on-teaching so welding is by far my favorite class here."
When students are not in the welding room, they are catching up in their Egdenuity and other online courses while others weld for two hours.
"Even though we do not have enough stations for everyone, we still get things done," explained Ms. Deb Weiss, the lead teacher of the Akademie. "I think that is a very beneficial class for the kids if they continue to stay with the program."
There are many types of welding that each mechatronic student gets to take part in, including stick welding, mig welding, tig welding, oxy-fuel welding, and cutting metal.
"This program is based on getting out of your comfort zone and taking risks so welding is one example of it," said DeYoung.
The Mechatronics program should double for the 2017-18 school year as current juniors rise to seniors and a new group of juniors will join them on the VW campus.
About the Contributor
Savannah Smith, Editor-in-Chief
Hi, my name is Savannah! I am a senior and this is my third year on the Central Digest Staff! I am the Editor-in-Chief for the Digest and I would...