Ten Central Seniors Named to 2017 Mr. and Miss Central Court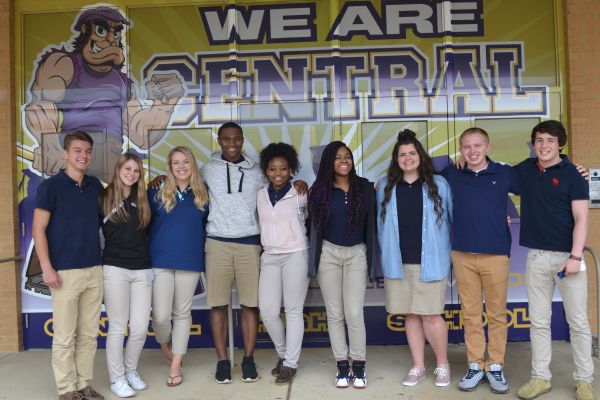 As the end of the school year nears, many students will be recognized for their dedication to Central High School. On Senior Day, which takes place on May 11 of this year, many seniors will be honored with some of the most significant awards of their entire educational career, including the elusive title of Mr. and Miss Central.
There are five candidates up for Mr. Central: D'Andre Anderson, Jared Eddy, Isaac Coffman, Alex Padavana, and Dylan Vagts.
Additionally, five students have been nominated for Miss Central: Emily Feist, Diamond Jackson, Miranda Lillard, Ashley Russell, and Rachel Woodward.
This year's candidates are very honored to be nominated.
"It's a great honor. It is something that I've always wanted to happen," stated D'Andre Anderson.
"I am very honored to be considered," commented Jared Eddy.
"It's pretty cool, and it's a great honor that we have been noticed for what we have done," stated Isaac Coffman.
"I am honored," elucidated Alex Padavana.
Candidate Dylan Vagts especially believes that being nominated for Mr. Central is an exceptional honor.
"I feel that [being a candidate for Mr. Central] is an honor unlike any other at Central High School. It's truly something special to know that my classmates and teachers thought highly enough of me to nominate me as a candidate for Mr. Central, and I would love to represent the class of 2017 as Mr. Central," responded Vagts.
Along with the Mr. Central candidates, the Miss Central candidates are very ecstatic about their nominations.
"I'm honored and it's very exciting. I'm happy to know that I am respected by my peers," said Emily Feist.
"I'm very excited. It's an honor to be chosen out of a lot of the girls trying to claim this title," stated candidate Diamond Jackson.
"I am very blessed for this opportunity and it just goes to show that all my hard work wasn't for nothing," elucidated Miranda Lillard.
"My mother was on her high school's court so I want to live up to those standards and it is an honor," commented Ashley Russell.
"I am shocked, yet happy. I am so honored to be on such a prestigious court," stated Rachel Woodward.
All of the candidates and their peers are very excited for this opportunity. Mr. and Miss Central have been two titles in the Central High School tradition that truly display the winners' love for the school.