Eddy, Holmberg Chosen as Class Speakers for 2017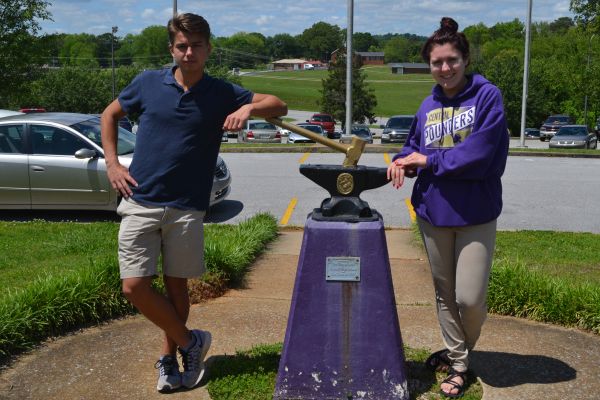 As the end of the school year is quickly approaching the students of Central, Central is preparing to bid the Class of 2017 farewell. The Class of 2017 will be graduating at the McKenzie Arena in Downtown Chattanooga on May 20. Along with the valedictorian, Emily Feist, and the salutatorians, Avionne Snakenberg and Tetyana Arkushenko, the student and the faculty representatives will also be honored with the opportunity of speaking in front of the Class of 2017.
This year, senior student Jared Eddy has been elected as the student representative by the Class of 2017.
"From my knowledge, the student representative is chosen by their peers to summarize their past four years in an inspiring and comical manner. They want a good speech from someone they don't mind listening to," stated Eddy. "We [the speakers] have to come up with a rough draft before May. The plan is that all of the five speakers are to focus on one word, which have not been decided yet, this is how the speeches will be connected. Mr.Daum will be editing it, but I have not picked anyone specifically yet to help me with my speech. I'm just kind of doing my own thing and trying to figure out my word."
Fellow senior student, Hannah Holmberg, has been elected as the faculty representative by the faculty and staff of Central.
"The faculty representative is chosen by the faculty to speak for the students for their excellent work while at Central. They look at academics and character and then vote," explained Holmberg. "I haven't written the speech yet, but Mr. Daum is helping me write it."
With all but barely a month left of their high school careers left, the seniors have been busy preparing both mentally and physically for their graduation.
"I'm excited about speaking at graduation and feel honored that the faculty chose me to be their representative. I'm excited for graduation and the next steps of my life!" exclaimed Holmberg.
Despite the excitement of the joyous, once-in-a-lifetime occasion, some students are still taking in the occasion with difficulty.
"I'm still taking it in day-by-day," elucidated Eddy. "Reality will probably set in on Graduation Day. I am really excited for graduation; I was given the honor of being able to speak one last time before my peers."
With the parting of the senior class, comes the sense of a new adventure as well as the loss of what was previously mediocre.
"I will miss the students and teachers that I have built close relations with over the past four years. They are all awesome people," reminisced Eddy. "The event, the football games, and running track and field, I'll really miss them all."
"I will miss my friends and the teachers at Central and also the fun times, like prom," articulated Holmberg.
After four years of contributing to the Central community, some regret looking back on their four years, not for what they did, but for what they had not done.
"I regret not getting to know more people in high school, and not going to as many events and just having a good time," phonated Holmberg. "I wish I would have been a little more involved in things other than sports and clubs."
While others regret, some have done and made the best of their environments.
"I regret nothing," declared Eddy. "I loved my high school experience at Central. I felt like I made the best of what I could. I didn't let my high school determine my high school experience."
About the Contributor
Brittney Hoang, Staff Writer
My name is Brittney Hoang and I am a sophomore this year at Central High. This is my first year as a Central Digest staff member, and I am very excited...