Jared Eddy and Diamond Jackson Crowned Mr. and Ms. Central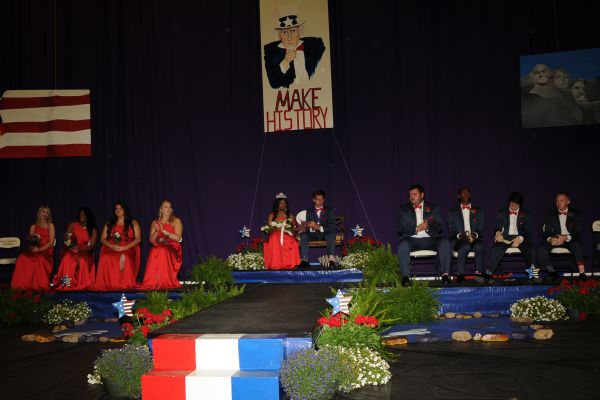 One of Central's oldest traditions continued on May 11, as Mr. and Ms. Central of the Class of 2017 was crowned in front of the student body along with the distinguished alumni.
This year, the honorable title of Mr. and Ms. Central was given to Jared Eddy and Diamond Jackson, respectively.
For each person, the importance of the title differs.
"The importance of Mr. Central for me is just the history of it," articulated Jared Eddy, this year's Mr. Central. "It is an honor to be among the other great names in this long tradition, and it is so amazing to be Mr. Central this year."
Attempts were made to reach Diamond Jackson, but she was inevitability unavailable.
Throughout Central's history, there have been many generations of Mr. and Ms. Centrals, but there are some key similarities between these distinguished, to-be, high school graduates.
"A lot of the past for Mr. and Ms. Centrals have either excelled in athletics, academics, or have somehow made Central a better place," stated Eddy. "Some have also made Central in the news for a positive reason."
Just as with every title, those that qualify for the title all start as candidates, and from there go through a selection process.
"The process starts with the teachers who pick out about 40 to 50 students who are in good standing to fill out a form," elucidated Eddy. "You must have at least five activities throughout your whole four years of high school, then the senior class votes. The senior class then votes, and who ever is the top five girls and boys is on the courts for the 10th, 11th, and 12 grade to vote for Mr. and Ms. Central."
Just as all of their predecessors, Eddy and Jackson must bid their school farewell after May 20, as they walk across the stage along with their peers.
"My final words to Central is to never give up. I understand that there will be situations, and there will be times that it seems like the whole world is against the school and you, but that is the time where you have to push the hardest," emphasized Eddy. "Don't ever let others determine your high school experience because it is what you make it, and you can make it the best time of your life."