Central Choir Gets Ready For Upcoming Choral Festival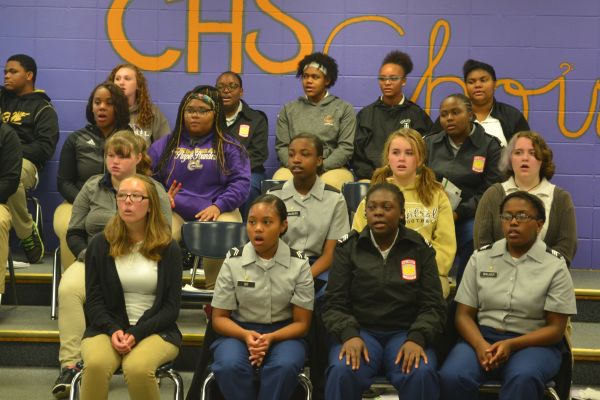 "The best thing about being a choir director at Central is getting to know our students and families. I love watching singers gain confidence in vocal and musical skills which will enable them to achieve their goals and dreams for life," Dr. Martha Boutwell shared.
Dr. Boutwell, Central's Choir instructor, is working very hard to make Central's choir the best that it can be, and her care for it is evident.
Central's choir will be participating in something very unique on Monday, October 2. This is the date of the seventh annual Hamilton County High School Choral Festival. This is very exciting event for the performers.
"It's the only time all year our singers get to work with so many other high school choir members in a non-competitive, day-long workshop," she expressed.
The festival is hosted by Ridgedale Baptist Church, and there will be 315 combined singers from Hamilton County high schools, including Central, East Ridge, Brainerd, Ooltewah, and East Hamilton. The guest conductor is Dr. Jonathon Rodgers from Lee University, and he will be conducting combined women's, men's, and mass choirs.
Each individual choir will also perform a song. Central's choir will be be singing "Keep Your Lamps," arranged by Andre Thomas, a renowned African American composer.
"This piece is an authentic African American Spiritual – a song of the Underground Railroad," Dr. Boutwell commented.
This year, there are 57 students in Central's Concert Choir, and 27 students in our Freshman Choir.
"We have a high percentage of returning students and some very gifted new singers, including from other area high schools and out of state," Dr. Boutwell praised.
Overall, the Central Digest is very proud of Central's choir and are looking forward to seeing what it accomplishes this year. Come and support Central's choir in the choral festival located at Ridgedale Baptist, from 6:00 – 7:00 p.m. on Monday, October 2. It is going to be something truly remarkable!
About the Contributors
Madi Blackburn, Staff Writer
Hi, my name is Madi Blackburn! A little about me: I am a senior here at Central, and this is my first year being a part of the Central Digest! I love reading,...
Haylee Smith, Columnist
Hello everyone! My name is Haylee Smith, I am a senior, and this is my first year on the Central Digest staff! I love to write stories, play instruments,...