Central's CTE Department Buys New Drones to Improve Education in Web Design and Skills U.S.A Classes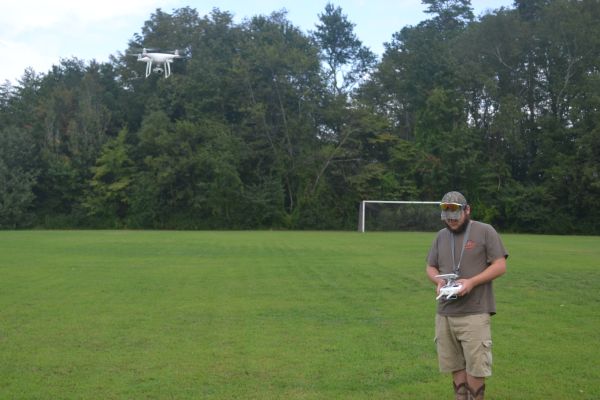 Central High School's CTE department has recently purchased two new drones. They plan to use the drones to improve the school in many different ways.
The new drones are DJI Phantom IV Pro+s. The drones have a one-inch, 20 megapixel camera that can shoot videos at up to 4k/60 fps (frames-per-second). The maximum altitude for the drones is 400 feet. They are also able to fly up to 2,000 feet away from the remote. The drones have a total range for control of seven kilometers and has a maximum 30 minute flight time. There is a home feature that is set when the drone takes off. It allows you to bring the drone back to that spot with the press of a button, instead of flying it back manually. "FlightAutonomy" creates a of five-direction of obstacle sensing and four-direction of obstacle avoidance. This makes the drone safer to fly and enables the pilot to take more risks. They cost the school around $2,200 for both.
The new drones will be used in many different ways. Brenden Walters stated that the new drones will be used to help educate students in web design. The [drones] will also be used to help the school with any other needs, such as advertisement.
"Since drones are now a $1.7 billion industry and is expected to be in excess of $7 billion incoming years, we felt it was the right time to introduce them into our engineering program." stated Mr. Bright, a Skills U.S.A sponsor.
Mr. Bright is putting together a flight team for the drones. They will fly the drones for school events and will teach new students how to use the drones. The team will also compete in drone competitions.  Mr. Bright plans to use it a the next football game to give the team another view of the field. He also plans to set up a engineering project with a "Myth Busters" theme where they will record footage of unique campus events. Mr. Bright will also use the drones to teach a class on building and designing drones.
"The students will be able to gain knowledge in STEM skills, aerial videography, and stimulate creativity through their results…The possibilities are limitless for the drones to enhance our students' learning experience." stated Mr. Johnson, the Web Design teacher here at Central.
There are many ways these new drones are going to help the school.  This has been an amazing investment by the school that will pay off in years to come.
About the Contributor
Blake Catlett, Assistant Editor
Hey! My name is Blake Catlett, I am a junior, and this is my third year serving on the Digest! This is also my first year serving as the Assistant Editor....