2nd Annual Career Event Engages Students With Over 20 Groups of Speakers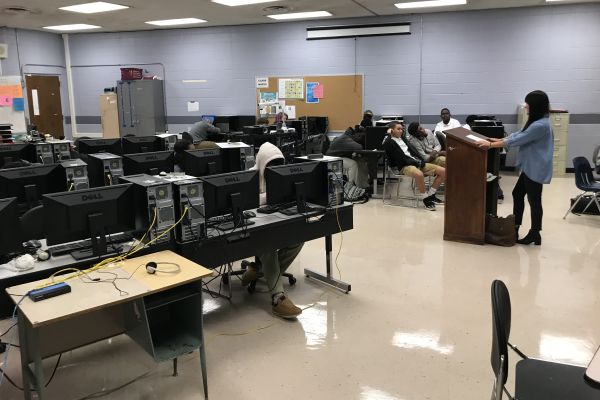 Last school year, Central High School hosted the first annual career event focused on informing freshmen on career paths. On October 3, 2017, Central hosted the second annual event with the help of Mr. Snyder, one of Central's math and English teachers.
This years career event, tagged "#CHSBizChat," boasted of over 20 speakers from different career fields across Chattanooga and the state of Tennessee. Students got to engage in informational and motivational conversations with each of the group of speakers; they got some insight on the speakers and their respective job.
Darian Scott, Chattanooga Chamber of Commerce member, helped get some of the speakers together for Central's Career event and felt it is crucial to have events like this.
"I feel like it's important to expose students to different types of careers and I feel that the information that the students received was very valuable," elucidated Scott.
This year's career event contained an array of speakers from different job backgrounds. Nori Moss, Power 94 host and communications leader for Andy Berke, Chattanooga's Mayor, believes that Central's students benefited tremendously from the career event.
"I feel that a couple things happened when I talked to the students. I feel like they saw a gateway to possibility. I feel they saw the importance in mapping out their vision and goals and executing a plan for their future," commented Moss.
Moss also believes that it is important that the students use their passions in whatever they want to do.
"Whatever your passions are, turn your passions into a paycheck," stated Moss.
Moss shared some advice for junior and senior students that do not know what they want to do once they graduate.
"I think it's important to figure out what you spend the bulk of your time doing," replied Moss. "Some people are introverts and some are extroverts. Find out what your passion is and turn it into a paycheck," concluded Moss.
Eavie Porter, part of the Head of Marketing for Go Build Tennessee, believes students who would like to go into the marketing or grass-roots field should focus on communication skills.
"Focusing on grammar and English skills is important for any type of marketing jobs. Students who would like to go into that field need to focus on those two subjects in order to ensure success in not only marketing, but most jobs," commented Porter.
All-in-all, the career event was a huge success for our students at Central High School. If you have any questions about the career event, be sure to see Mr. Snyder in D-Pod.
About the Contributor
Jake Johns, Copy Editor
Hey! My name is Jake and I am a senior! This is my fourth year on the Digest staff and second as Copy Editor. I am a member of the City of Chattanooga...