Central Class of 2019 Elect Junior Class Officers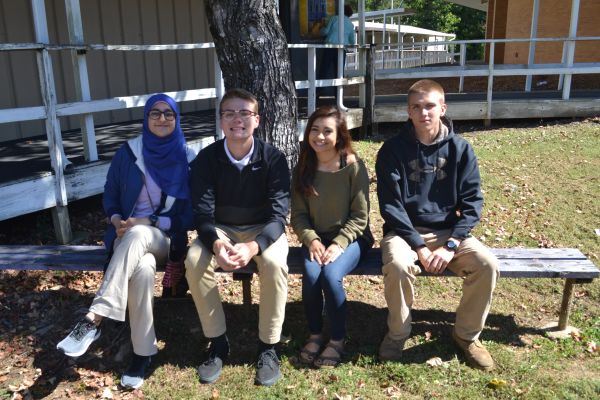 This year, a brand new bunch of capable juniors have been elected to lead the class of 2019. This year's officers include Anahi Colunga, Matthew Frazier, Zeena Whayeb, and Jake Johns. They were all elected by the Class of 2019 student body and are more than capable of keeping the junior class satisfied, as well as improving the school.
Anahi Colunga, this year's junior treasurer, is expected by many to do great this year and fulfill all of her duties as an officer, and even go beyond that. She will surely go on to do great things and be leader after high school, along with the rest of her fellow officers.
Matthew Frazier, the year's junior secretary, is happy that he won and is ready to make the school a better place. He persuaded the audience to vote for him by doing an impersonation of Donald Trump, giving politics a much needed taste of comedy. This is Frazier's first time as an officer, and he plans to run again next year. Although he plans to pursue a career in the military, he will surely perform great as a class officer.
"I feel glad that I won an officer position, and very enthusiastic about the future," stated Frazier.
Vice President Zeena Whayeb, won the crowd over during the election with her persuasive and promising speech. She explained that she has not done much concerning her position yet, but she plans to as soon as she can. She does not plan to run next year, but many are sure she will fulfill her duties as vice president during her term.
"My goal for the school year is to survive and fulfill what I promised in my speech," said Whayeb.
New junior President Jake Johns appealed to the audience by relating to the student body and seeing what they wanted to change, and it paid off. He ran because of his love for Central and helping others. He plans to make this year the best and believes that his class can not only do great things for themselves, but for the whole school as well. Even though he lost by very little at last year's election, he ran again and it paid off greatly. He plans to run next year as well because he plans to be as involved in the school as possible. Johns says he is very excited to be leading such a great group of individuals and plans to make this year as best as possible.
"I have a true care for my class and hope that I can make everyone happy!" exclaimed Johns.
The 2017 junior officers are here to help keep their class in order, as well as attempt to make this school year the best it can be. The class officers are sure to fulfill their promises, and will go on to be leaders and do excellent things in life.