Central Class of 2020 Elect Sophomore Class Officers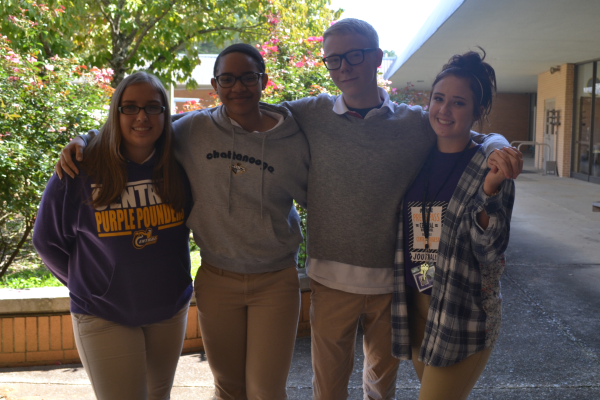 Samantha Helmholtz, Staff Writer
October 5, 2017|56 Views
Students always listen more to people they relate to. Teachers and principals are obeyed, of course, but for a lot of students their full attention is usually reserved for those of the same age. This is why the student council is to integral to school functioning. It gives students someone like them to look up to and to represent their entire grade.
A few weeks ago, elections for student office was held. The sophomore representations now hold their position in earnest. The president is Jazmynn Ball, the vice president is Meghan Duncan, the secretary is Brandon Henderson, and the treasurer is Peyton Anderson.
"I love this school and I want to be a part of it as much as I can. It's boring to just be a student walking around the halls when you can be so much more," commented Duncan.
The class officers chose to run for their positions for various different reasons. However, they all come down to wanting to give back to Central and its students, and the yearning to be their for their peers.
"I just wanted to let people know I was there for them. I know how hard it is to feel alone, especially at school, so I decided maybe I could try and help people," expressed Henderson.
Standing in front of everyone in your grade, friends, enemies, strangers, is difficult. Putting yourself out there in front of so many people is terrifying.
"When you're up there, everyone judges everything, how you see and act," remarked Anderson.
This fear, however, is not something everyone holds. For instance, Henderson did not do any prep work for his speech. He only expressed how he was feeling in the moment and loved it. Ball did not have very much anxiety, either.
"I wasn't that nervous, surprisingly. I think preparing and experience speaking in the past helped to keep my nerves down," she disclosed.
During the elections, the positions of vice president and treasurer Meghan and Peyton were the only ones running for their respective titles. However, there were multiple candidates for the presidency. Both Jazmynn and Brandon had run for that top position. Having won over all of them, Jazymnn feels accomplished knowing that doing her best paid off. While Brandon had not gotten the position, he was runner up and therefore offered the title of secretary.
"Honestly, I wasn't that shocked I lost, but I am so proud that Jazmynn got the spot as president. She's an amazing student and person so she deserves the title," he elucidated.
At this point in the year, the student council does not have many duties. Still, the officers are ready and eager to help Central and the sophomore class to grow and succeed.
About the Photographer
Sam Helmholtz, Staff Writer
My name is Sam, and this is my second year of the Digest. I'm currently a junior and hope to attend an art college in the next couple years. I also greatly...