Teacher Spotlight: April Slatton Joins the Purple Pounder Family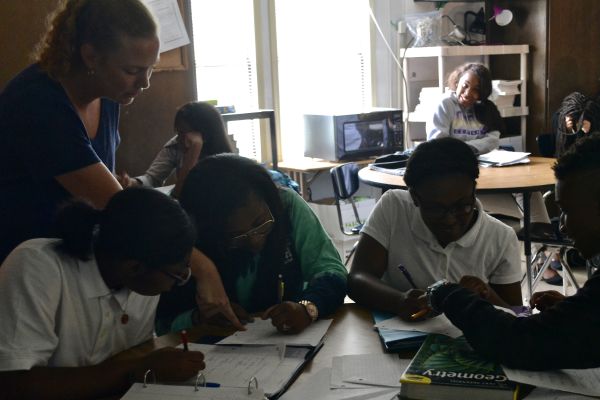 Teachers are one of the most important and iconic parts of Central High School. From Mrs. Staton and her rats to Mr. Seals and CNN10, we recognize these mentors as soon as we hear their name. However, there are new teachers added to our hallways every year. One of those additions for the 2017-2018 school year is Ms. April Slatton.
"I love Central so far. My students are fabulous, and my coworkers have been more than welcoming," shared Slatton.
Slatton has spent the last 13 years of her career at Lookout Valley Middle-High School. She went to McMinn County High School in Riceville, the small Tennessee town where she grew up. She then went on to attend the University of Tennessee at Chattanooga, where she earned a Bachelor of Science in biology and secondary education. She finished her education at Carson Newman University, earning a Masters in Education.
"I am a science teacher, so I love biology. I was able to attend the University of the Bahamas through UTC class exchange for tropical marine ecology classes," revealed Slatton.
Outside of school Slatton enjoys spending time with her 7 year old boy. She also likes to hike, paddle board and play sports.
"She is really friendly and down to earth. She really cares about her students," shared Jada Lowry, a freshman student of Slatton's.
Her passion for science also reaches outside of the classroom. During the summer, Slatton works with a team on a sea turtle research project on Sapelo Island, Georgia.
"My goal as a teacher is to, hopefully, help kids understand biology and then inspire someone to go into a science based career," articulated Slatton.
For teachers, starting a new job can be just as scary and nerve racking as starting school is for students. They want a place that is inviting and makes them feel at home.
About the Writer
Matthew Davis, Assistant Editor
Hi! I am Matthew, and I am a Senior here at Central. I am a member of the Central Sound marching, concert and jazz bands (award winning bands, btw!). I...