Central's Marching Band Celebrates First Place in A Bradley Classic Competition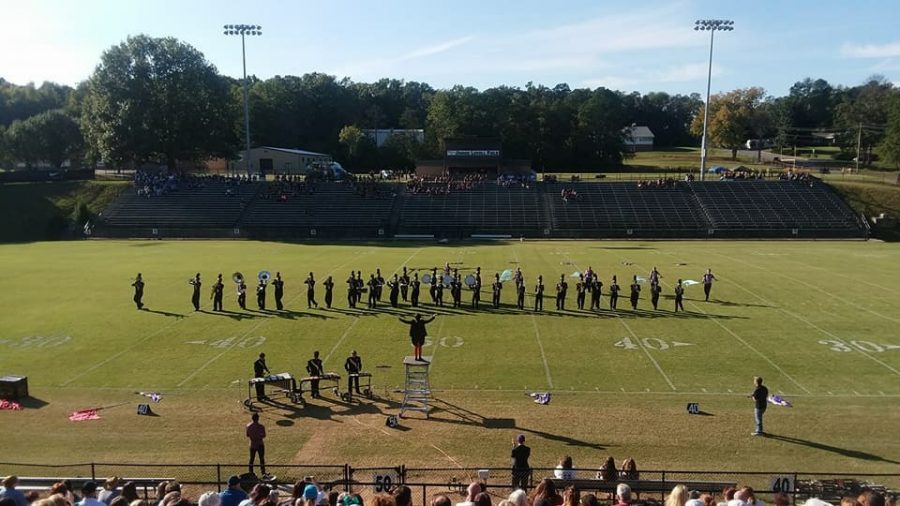 Central's marching band is an active member of several competitions and festivals throughout the year. On September 30, the marching band competed in the 33rd Annual A Bradley Classic event, leaving with first place in both percussion and overall for their division.
The majority of marching bands in Hamilton County, as well as bands from surrounding counties such as Catoosa County, took their shot at showing off their skills at the event. The competition took place at Bradley Central High School, and the judges consisted of present and past band directors from high school and collegiate levels.
"As I watched the students perform, I knew that they were giving their best performance of the year collectively and that there was a chance that they would place well," Band Director Joshua Bloodworth reflected, "Band competitions are always highly subjective as the results come down to a few judges' opinions. That being said, when they announced the results, I thoroughly enjoyed watching the students celebrating."
Several integral components of the performances were analyzed, including Visual Ensemble, Visual Effect, Music Ensemble, Music Effect, Color Guard, and Percussion. Each band that participated was organized into groups, or divisions, based on the amount of wind, percussion, and guard members their band consisted of. Our band is placed into division AA. Everyone that entered the contest received a score for each of the categories mentioned above, and the combined total helped determine the winners of each division.
"With us being a smaller band there's a lot to notice. On the other hand, larger bands have so many people that the judges might get mixed up with the specific members that they are supposed to be looking for. I believe that our performance ability, loudness, and hard work is what helped set us apart from other schools," divulged Junior Samantha Townsend.
Students involved in the marching band put forth a lot of hard work into perfecting their performances each year. Annual practice begins in July, continuing each week on Mondays, Tuesdays, and Thursdays from 2:45-5:00. Students even get to attend an away camp on a college campus. This year students got to practice at Jacksonville State University in Alabama, carrying on the tradition.Additionally, the band does a quick run-through rehearsal on Friday before the football games.
"It felt really good to perform," Townsend revealed. "It felt like a football game, but I was more confident even though we were being judged. I knew that the results were only based on someone else's opinion."
"They have worked very hard this year, and the acknowledgment of their diligent efforts was just icing on the cake," Bloodworth concluded.
About the Writer
DayOnna Carson, Editor-in-Chief
My name is DayOnna Carson, and this is my fourth year being on the Central Digest! I love reading and making stories of my own, so I am glad I got the...