Central High Jazz Band Receives Standing Ovation At Wallace A. Smith Elementary Performance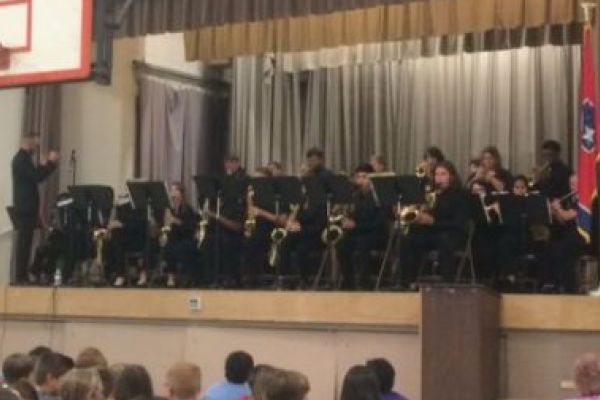 The Central High School Jazz Band ventured to Wallace A. Smith Elementary and The Ooltewah Life Central for a couple of performances on October 24, 2017. Their purpose behind the school performance was that the children will be learning about the Harlem Renaissance soon.
They performed a total of 14 songs during their performance at Wallace A. Smith. The children gave a standing ovation to the jazz band for their performance.
"The kids really enjoyed us playing for them. They were smiling and the cheered for us at the end," said Junior Sam Crites.
"I feel like they bridged the gap between the younger generation and the older generation and i feel like we made people's lives better" explained Freshmen Kenny McCroby.
"My personal favorites that we performed were 'Over the Rainbow' by Yip Harburg and 'I'm Getting Sentimental Over You' by George Bassman" continued McCroby.
The Jazz Band went to the Life Care Center to perform for the elderly. Patients there do not get a chance to venture outside of the Center a lot and often get lonely. The manager from the Ooltewah Life Care Center called Mr. Bloodworth asking for the Central High School band to come and perform.y. After the performance, band members went to visit and talk to the elderly there.
"Performing for them allowed them experience an outside world" explained Junior Ivan Michel.
If you would like to experience the Jazz Band live, they will be performing on November 9, 2017 for their "Coffee and Dessert with the Jazz Band" concert.