Three Central Students Featured on WGOW Radio's 'Be True to Your School' Segment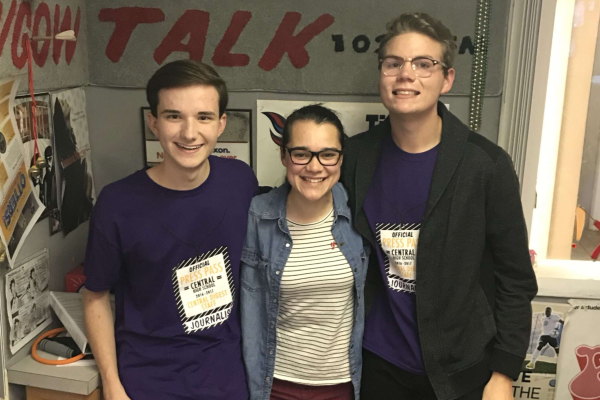 Bryson Eddy, Staff Writer
November 28, 2017
'Every school has something that makes it great, in the student's eyes. Central High School has many things that make it great, and Preston Fore, Haylee Smith, and Jake Johns were recently at the WGOW studio on November 9  to discuss them.
The segment, "Be True to Your School" is a one hour radio show where students from schools discuss everything about their school. On the Central segment, topics included school clubs, pride, favorite teachers, interests, and how the Central family is a great one to have.
"Since I am one of the most involved students at Central and I have previous background in radio, I was asked if I would participate. It was an opportunity I could not decline," replied Junior Jake Johns when inquired on how the opportunity of representing Central on the radio was presented to him.
The segment helped students from other schools learn more about Central High and what makes it what it is. This school is filled with great people who've come together to represent a family who takes pride in their school.
"Being on the radio benefited me a lot. It helped me to really appreciate Central more that realize that I could not have gotten this far without such a great school," said Senior Haylee Smith when asked about how the radio segment benefited the school, and her as an individual.
Being on the radio, or television can be a very nerve wracking thing for anyone. Knowing that several people will hear and see you can get anyone a little stressed out.
"I think all of us were pretty nervous before the show, mainly because we didn't know what to expect. After the show, I was really proud of Haylee, Jake, and myself for representing Central in a great way," concluded Junior Preston Fore when questioned on his feelings about speaking on the radio.