Central High School Gets in the Holiday Spirit by Putting Up the Famous Purple and Gold Christmas Tree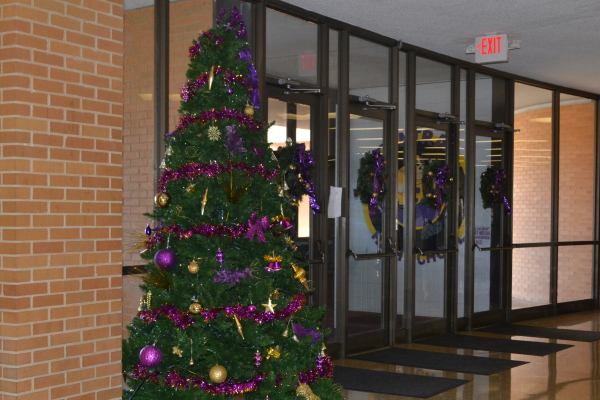 Students at Central High are getting into the holiday spirit, and are further reminded that the holidays are just around the corner by the decoration of the Central High Christmas Tree!  Many agree that the students in charge of putting up the tree, seniors Jennifer Ramirez and Kerri Sylvester, did a great job with helping to beautify the school for the 2017 holiday season.
"I like the idea, it's a nice way to brighten up the school," said freshman Kenny McCrobey.
Most students agree that the idea of decorations for a holiday in school is a great way to help students enjoy coming to learn. It reminds them that both Christmas and winter break, are not far away.
"I hope the tree goes up every year. I'm a senior, so I can't put it up next year, but I hope someone will," claimed Jennifer Ramirez.
Some students at Central High School believe that the tree will stick around and continue to be displayed in the following holiday seasons. Most hope it will stay for years to come because it brings them joy and helps to brighten up their day.
"It makes our school stand out more and it's very pretty. I like it because it's a good way to beautify the school," stated freshman Elizabeth Irving.
Not only do the students at Central High enjoy the tree, but it also entices adults and others that visit the school. It makes the school look nice and lets others know that students take pride in the way they treat and represent the school.
So, anyone who happens to pass by the Central High School office should stop and take time to appreciate the hard work done by Jennifer Ramirez and Kerri Sylvester. It is sure to put everyone in a festive mood.
About the Contributor
Bailey Brantingham, Editor
Hi, my name is Bailey Brantingham. I'm a senior at Central and this year I'll be back on the Digest as an editor. I plan to attend UTK next year for college...