FCA Assembles Shoeboxes for 'Operation Christmas Child'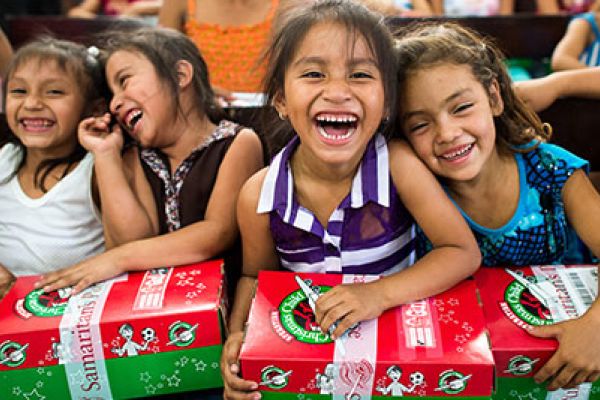 Hang on for a minute...we're trying to find some more stories you might like.
This holiday season is one that many consider to be about thankfulness and giving back to the community. The Central High School Fellowship of Christian Athletes (FCA), is doing just that. FCA members are putting together shoeboxes for an organization called, "Operation Christmas Child".
"It's a chance for families, communities, and churches to come together and share Jesus through purchasing items to go in a shoebox. These shoeboxes will be shipped all through the US and around the world to children who otherwise would not have any Christmas presents at all. Pastors are trained through Samaritan's Purse and when the shoeboxes arrive, often in very remote places, the pastors and volunteers will share the gospel with the children receiving the shoeboxes," Mrs. LeeAnn Shurette, the Central FCA sponsor, explained.
All that it involves is packing a shoebox, either one from home or the official one from Samaritan's Purse, with different items that underprivileged kids can use and enjoy.
"Things like a 'wow' item like a soccer ball, personal items like soap and toothbrushes, clothes, underwear, and school supplies can go in the box. Also a picture of your family or a letter is nice to include for the child," Mrs. Shurette described.
The shoeboxes are packed and then delivered, along with the shipping fee of nine dollars, to a local church or Hobby Lobby.
Central's FCA has participated in this commendable project for eight years, and members really enjoy being a part of it.
"What I like about being a part of it is that I get to give back to someone, and even though I don't know which child will get a box, I just know that whoever gets one will have an unforgettable Christmas," Freshman Ashlee Smith expressed.
Senior Bethsy Harrigan added, "It makes me feel less selfish about the things that I have; I feel like this is my way of giving back."
Overall, the goal and the purpose of FCA's involvement in Operation Christmas Child is to give to others that often do not receive anything, and to spread the word about the ultimate gift.
"FCA chooses to be a part of it because the people in FCA want the chance to serve others like Jesus served us and gave to those in need," Smith declared.
"Hopefully, through receiving this gift the child will also receive the gift of eternal life by accepting Jesus as their Lord and Savior," Mrs. Shurette concluded.

About the Writer
Madi Blackburn, Staff Writer
Hi, my name is Madi Blackburn! A little about me: I am a senior here at Central, and this is my first year being a part of the Central Digest! I love reading, painting, playing tennis, and baking. I have not solidified college plans yet, but I hope to do something with art. I know this is going to be an awesome year, and I am so excited to see what it holds!